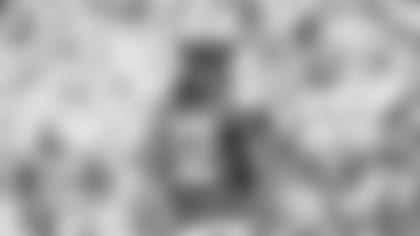 Despite missing the last three games and Wednesday's practice because of a quad injury, Jets cornerback Trumaine Johnson is optimistic he'll return to the field sooner rather than later.
"It's getting better daily," Johnson said. "Hopefully I'll be out there soon."
The seventh-year veteran suffered the injury in practice doing "everyday drills" and it's similar to something he's dealt with before. However, the 6'2", 213-pounder does not need surgery and he's eager to return to the field.
"Most definitely, but injuries are a part of the game," Johnson said. "It's not my first time getting injured. Our training staff has been doing a hell of a job trying to get me out there as soon as possible."
The Jets have been battling injuries as of late, in addition to Johnson, as wide receiver Quincy Enunwa (ankle), safety Marcus Maye (thumb) and cornerback Buster Skrine (head) all didn't play in Week 7, and running back Bilal Powell (neck) and safety Doug Middleton (pectoral) were placed on Injured Reserve this week.
"It's moving parts, it's a part of the job as a coach," head coach Todd Bowles said. "There are things you have to do to adjust and move people around, get some parts together and try to put the team out there that gives you the best chance to win. Everybody loses starters. We lost quite a bit lately, but we've got guys that can play and we're going to get them up to speed so they can play."
Jetcetera
CB Buster Skrine was limited in practice after missing the last two games, but remains in concussion protocol. … S Rontez Miles returned to practice for the first time in the regular season but will not be activated. Miles was placed on the PUP list July 27 after suffering a knee injury early in the Organized Team Activity period. … S Marcus Maye returned to practice after suffering a thumb injury against the Colts in Week 6. Bowles said there's a possibility Maye will play Sunday against the Bears, but he was limited in practice Wednesday. … LB Kevin-Pierre Louis (foot) was limited in practice. … LB Darron Lee (illness), CB Morris Claiborne (shoulder/foot), C Spencer Long (knee/finger), WR Robby Anderson (ankle), WR Quincy Enunwa (ankle) all did not practice Wednesday. ... RB Isaiah Crowell (foot) was a full participant in practice after only practicing on a limited basis each of the last two Fridays.