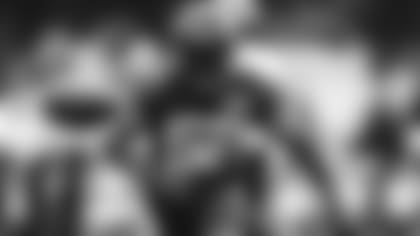 Throughout the season, NewYorkJets.com reporters Eric Allen, Ethan Greenberg and Randy Lange will each give their predictions to a series of questions regarding this year's Jets.
Today's question: What would the returns of S Marcus Maye, LB Jarrad Davis Mean to Jets Defense?
EA: The Jets have played solid defense through five game, but they can be even better over the final 12 contests. To date, the Jets defense ranks ninth in both yards per play (5.30) and rush yards per play (4.01). Even after taking a step back against Atlanta, the Green & White are fourth in red-zone defense (42.9%) and 10th in third-down defense (35.7). The defensive line didn't play its best in London, but the DL will continue to create havoc up front. Let's also consider the Jets are getting a highly athletic, physical presence back in the lineup in Jarrad Davis. I'm interested to see him pair with C.J. Mosley, who's been terrific, and all of these Jets 'backers – including waiver find Quincy Williams – are thumpers. The young cornerbacks have impressed, but let's consider what has transpired at safety this season. The Jets have started four different pairings with Maye (3), Jarrod Wilson (2) Lamarcus Joyner (1), Sharrod Neasman (1) and all getting starting nods. In Week 5, Neasman played 86% of the defensive snaps while Wilson (65%) and Ashtyn Davis (47%) also got a decent amount of run. Marcus Maye is a steady force and he can give a lift to a young backfield that has gotten good play out of its young corners. The Davis/Maye returns will also improve defensive depth and provide even more options for a special teams unit that has been very impressive.
EG: It would provide stability. Marcus Maye and Jarrad Davis are both starters on this defense even though Davis has yet to take a snap in the regular season. I'm particularly interested to see what Davis looks like in this defense because HC Robert Saleh and DC Jeff Ulbrich raved about the former first-round pick in the spring. When Davis signed with the Green & White in the offseason, the media thought he was miscast in Detroit, which led to the Lions not opting to re-sign him. Davis then told the New York media he saw this opportunity as a career rebirth. His speed and veteran presence next to C.J. Mosley, who is playing at a high level, could yield a forceful pair. The Jets' LB depth instantly improves, too, considering Quincy Williams has been playing better each game. For Maye at S, there's been so much rotation with injuries to Lamarcus Joyner and Adrian Colbert so far this season. Maye, the 2020 Curtis Martin Team MVP, has been an extremely consistent player for the Green & White and Ulbrich said he was just turning a corner in regard to fully understanding his defense. With both Davis' and Maye's return, I could see the defense flying around more than its been.
RL: It would mean stability (duh). Marcus Maye is the longest-tenured Jet (along with LS Thomas Hennessy), now in his fifth season as a starting safety for the Green & White. Jarrad Davis is also a fifth-year pro, having spent his first four seasons as a Lions starter before signing to bring experience and playmaking to the LB corps alongside C.J. Mosley. Kudos to the cast of seeming thousands who have helped shore up the S and LB positions the first five weeks of the season. But adding Maye, who's averaging 68 defensive snaps/game over the course of his career, and Davis, who's averaged 50 defensive snaps/game in his career, will stabilize the Jets' promising defense, still a top-10 unit in some key categories, in other areas where they could use it. Such as in interceptions — they still seek their first pick of the season — and late in halves — opponents have scored 20 points on drives ending in the last two minutes of second quarters, and the Titans and Falcons both executed TD drives late in fourth quarters to complicate the Jets' endgames the past two weeks. In short, welcome back, Marcus and Jarrad.