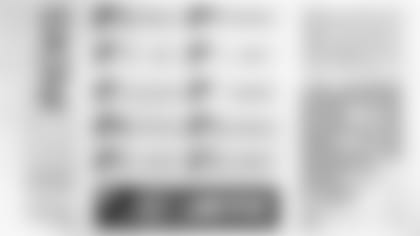 Throughout the offseason, NewYorkJets.com reporters Eric Allen, Ethan Greenberg, Olivia Landis and Randy Lange will each give their predictions to a series of questions regarding this year's Jets.
Today's question: What would make a successful draft for the Jets?
EA: Success will be achieved by sticking to the plan. Joe Douglas has been clear in the traits he's looking for in future Jets —competitive players with great work ethics who love the game and will fit inside the locker room. I view the prospects in three ways: immediate starters, eventual starters/role players/special teams contributors and developmental types. With four picks in the top 80, Douglas potentially could find 3-4 immediate starters. With clear needs at T, WR, CB and Edge, the Jets are in a great position because the best player available (BPA) on the board could often marry need early in this draft. There are a quartet of excellent tackle prospects but don't forget about names later like Josh Jones (Houston), Austin Jackson (USC), Ben Bartch (St. John's), Matt Peart (Connecticut), Ezra Cleveland (Boise State) and Prince Tega Wanogho (Auburn). This is a historically deep wide receiver class beyond the likes of Jerry Jeudy and Henry Ruggs III (Alabama) CeeDee Lamb (Oklahoma) and there could be interesting value at Edge with a group that includes Bradlee Anae (Utah), Josh Uche (Michigan) and Julian Okwara (Notre Dame).
EG: Unfortunately, you can't properly grade a draft until two or three years after the collegiate players become pros. However, a successful draft, to me, for the Jets would include filling holes e.g. T, WR, EDGE, CB and adding depth to positions that GM Joe Douglas has yet to address e.g. RB. In a perfect world for every team, not just the Jets, you'd like to see your picks Rounds 1-3 be immediate contributors, if not, starters who blossom into starters. I think Jordan Jenkins, who was a third-round pick in 2016, is a good example of that. As Anthony Becht told EA and me on The Official Jets Podcast (will be posted next week), teams look for "special" players in the middle rounds — someone who can perhaps line up at multiple positions like Jets throwbacks WR/KR Brad Smith and RB/KR Leon Washington, who were both fourth-round picks. Along with talent, you want to continue building your culture and this is the first time Douglas will have the opportunity to do so. The Jets have the ammunition to add a lot of talent to the roster through the draft with four picks in the top 79 and eight total.
RL: It takes a while to evaluate a draft's success, but as far as the initial bullet points the team and its fans might look for, I'd like to see Joe Douglas and the Jets add a player or two at each of those positions of need — tackle, wideout, edge rusher and corner. And specifically, when the draft is done, I'd like to see that the Jets have followed through on providing Sam Darnold those playmakers and protectors that GM Joe Douglas has recently talked about. Since the 2010 draft, the Jets have had 28 picks in the first three rounds. Ten of those picks have been offense — Darnold in '18 and Brian Winters in '13 have been the only "keepers," with the jury still convening on T Chuma Edoga from last year's draft. Seven other top offensive picks have washed out quickly, not a good percentage. We won't know for sure until the rookies take the field, of course, but if two or three of those first four picks are top offensive choices, that will earn high initial marks in the days after the draft.
OL: To every team and every general manager around the league, what determines a "successful" draft can differ. For the Jets, GM Joe Douglas has been very vocal about bringing proper protection around QB Sam Darnold. After signing five offensive linemen in free agency, there are still improvements to be made at T, along with WR, EDGE, and CB. I think Douglas is going to do his best to fill in those holes through the draft and snag talented players that could be day-one starters. When speaking to multiple analysts around the league the past few weeks, many have expressed their full belief and confidence in the Jets' first-year GM. Brian Billick, an NFL Network analyst and former head coach of the Baltimore Ravens, spent many years with Douglas, who was a scout for the team — the two even won a Super Bowl together. He spoke on Douglas' experience learning under former Ravens GM Ozzie Newsome and how it has helped shape his approach. If Joe D can stick to his plan and use his 20 years of NFL experience to make decisions, the Green & White should have a successful draft.