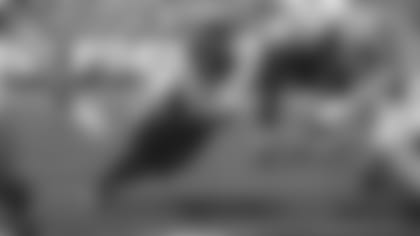 Throughout the offseason, NewYorkJets.com reporters Eric Allen, Ethan Greenberg, Randy Lange, Caroline Hendershot and John Pullano will each give their predictions to a series of questions regarding this year's Jets.
Today's question: What will be the determining factor Sunday in Jets vs. Patriots?
EA: Turnover differential. During their four-game win streak, the Jets have played at a high level on defense and on special teams and they've protected the football. They didn't commit a turnover in Week 5-7 and were +2 in Pittsburgh, +2 vs Miami, +1 in Green Bay and +1 in Denver. Conversely, the Patriots have fascinating splits as their 13 takeaways rank tied for third in the NFL. But the Pats have 15 giveaways and that's the second-worst number in the NFL. If Mac Jones (6 INTs) is the starter, he'll face a Jets defense that ranks tied for third with 8 INTs. Also, let's see how the Jets offense responds to life without RB Breece Hall and OL Alijah Vera-Tucker. From Weeks 4-6, Hall accounted for 44.2% of the Jets' touches. Duane Brown and AVT's replacement, Cedric Ogbuehi, have to contain the Pats' edge rushers, Deatrich Wise and Matthew Judon, and allow Zach Wilson to get the ball to playmakers Michael Carter, Garrett Wilson, Elijah Moore and company.
EG: Self-inflicted wounds. HC Robert Saleh said New England "has forever been a team that just feasts on your mistakes." The Patriots are tied for third in the NFL with 13 takeaways (7 interceptions, 6 fumble recoveries). This puts Zach Wilson, who has been turnover free in each of his last three games, in the spotlight. Without Breece Hall, I expect Patriots HC Bill Belichick to devote a lot of attention to stopping the Jets' run game, putting the weight on Wilson, who is averaging 173.3 passing yards in his first four games. Wilson did not throw a touchdown against NE in two games last season although he only took 18 snaps in the most recent matchup before he sustained a knee injury at Foxboro. The Green & White also must reduce their penalties. They were penalized 11 times for 85 yards at Denver. The cleaner game the Jets play, the better chance they'll have to snap their 12-game losing streak against the Pats.
RL: My initial thought was turnovers, and they will be important — especially more takeaways than giveaways for the Jets. But I'm sight-adjusting to the Jets defense against the Patriots offense. Last year's game at Foxboro, the one in which the Patriots scored 54 points and gained 551 yards, has stayed with some of the Jets defenders this year. Now it's time for the defense to show that it's the top-10 unit (10th in yards allowed, t-10th in points allowed) that the NFL rankings say it is at this moment. DC Jeff Ulbrich explained, "The group of men that were here and experienced that, there are those moments within sport, or any adversity in life, where people start to point the finger, people divide. Then there's people that come together and galvanize and lock arms. ... You started to feel a little momentum toward the end of last season because of those moments, and I really think it's the foundation of the strength we have now." This doesn't mean the Jets defense will win this battle, but I'm eager to see them give it a try and come up big against the Pats on Sunday.
CH: The Jets offensive line will be in for another challenge on Sunday, specifically Cedric Ogbuehi. Ogbuehi replaced Alijah Vera-Tucker last weekend at RT and he'll start there vs. the Patriots. While Patriots LB Matthew Judon will move around, he most likely will line up across from Ogbuehi. Judon leads the league with 8.5 sacks, has 27 tackles, and 1 forced fumble. According to Pro Football Focus, when Zach Wilson has a clean pocket, he averages 9.1 yards per attempt with an 89.6 grade. Wilson also has a 75.7 completion percentage, and his turnover worthy play percentage is only 1.3 when kept clean. The biggest determining factor is not only the offensive line, but the team who makes the least mistakes. If the offensive line holds up in front of Wilson, the percentage of mistakes drops significantly.
JP: The O-Line's ability to keep QB Zach Wilson upright. This season, Wilson has been kept clean on 64.1% of dropbacks and operated at a high level with an 89.6 passing grade according to PFF, a 75.7% completion percentage and 9.1 yards per attempt. His stats take a substantial dip when pressured and this season the Patriots have lived in opposing backfields, hurrying QBs on 12% of snaps – the second-highest rate in the league – and applying pressure on 27.5% – the third-highest rate in the NFL. In the Jets' five wins, the QB has been pressured on 22.5% of dropbacks. The Jets will have to protect Wilson without OL Alijah Vera-Tucker who was placed on IR after sustaining a torn triceps against Denver. They plan to start eight-year veteran Cedric Ogbuehi at RT. He played 43 snaps against Denver and was the Jets' second highest-rated pass blocker (78.2). The NFL's sack leader with 8.5 QB takedowns, Patriots DE Matthew Judon, will line up primarily on the left side against Ogbuehi and a strong performance the Jets' reserve could be critical.