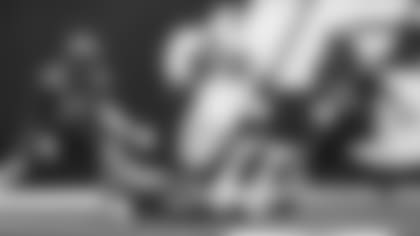 Throughout the offseason, NewYorkJets.com reporters Eric Allen, Ethan Greenberg and Randy Lange will each give their predictions to a series of questions regarding this year's Jets.
Today's question: What stands out about the Jets' 12 unrestricted free agents on defense?
EA: After the Jets' 2020 season ended, GM Joe Douglas told reporters that bringing back Marcus Maye would be one of the priorities of the offseason. The veteran free safety, the one constant in an ever-changing secondary, led the defense with 11 PDs, finished second with 88 tackles and brought Bills QB Josh Allen down for a pair of sacks in Week 1 while predominantly lining up in the box for the first time in his career. Maye, the only NFL defender with 2 INTs, 2 sacks, 10 PDs and 2 forced fumbles last season, is a natural leader who likes it here and would like to be part of a turnaround. Inside linebacker Neville Hewitt is coming off a career year and it will be interesting to see what lies ahead for him and the Jets as the Green & White move to a 4-3. Also the nickel corner spot is one of the most critical roles in any defense and Brian Poole, limited to nine games last season, is set to become a UFA after a strong 23-game run in 2019-20. And last but certainly not least, Jordan Jenkins, a third-round pick out of Georgia in the 2016 NFL Draft who is the longest-tenured Jet, battled through injuries last season and has always been a gamer for a team that is entering a significant transition in terms of systems on both sides of the ball. Jenkins has racked up 22.5 sacks and 7 FF in 72 contests. 
EG: Of the Jets' 12 defensive players with expiring contracts, three led the defense in snaps -- S Marcus Maye (1,137), LB Neville Hewitt (1,130) and OLB Tarell Basham (734). Another three -- CB Brian Poole, S Bradley McDougald and OLB Jordan Jenkins, the longest-tenured Jet -- all started Week 1 at Buffalo. One of the challenges the new coaching staff and front office has is determining which players on both sides of the ball fit the new system. In this case, that's defensive coordinator Jeff Ulbrich's scheme. GM Joe Douglas said retaining Maye, the 2020 Curtis Martin Team MVP, is a priority, but didn't touch on any other players. Hewitt had back-to-back career years with the Green & White, Jenkins and Basham were the predominant starters at OLB in both the 2019 and 2020 seasons. Poole was the Green & White's starting nickel CB the past two seasons. Arthur Maulet started 11 games over the past two seasons, playing at both CB and S in addition to special teams. Point being there are a lot of players who took meaningful snaps for the Jets whether they were a starter from Week 1 or were thrust into the lineup. This defense could look different depending how free agency shakes out, which begins on March 17. Other teams, however, can begin negotiating and reach deals with players who have expiring contracts on March 15.
RL: The impact this defensive dozen will have on the makeup of the Jets' back seven is what strikes me the most. At LB, the top three 'backers in terms of defensive snaps — Neville Hewitt, Tarell Basham and Jordan Jenkins — can become unrestricted free agents. C.J. Mosley is not a UFA and can return after last year's COVID opt-out, but where is he at after playing in roughly a game and a half in the past two seasons? Likewise Blake Cashman, who got all of 3 defensive snaps this past season? Similarly in the secondary, the top two safeties, Marcus Maye and Bradley McDougald, plus top special-teamer Matthias Farley, can all become UFAs, as can nickel corner Brian Poole. Every year every team has a position or two that it has to keep a close eye on in either retaining good players from the previous season or bringing in new free agents who can quickly mesh with the system. Every year some free agents depart that the team really wanted to retain. At least with new HC Robert Saleh, we know his system will be new for everyone in green and white, and we also know that he knows what he wants and needs on a top-notch defense.