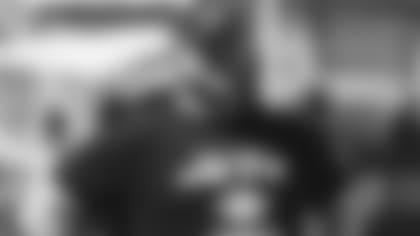 Throughout the season and offseason, NewYorkJets.com reporters Eric Allen, Ethan Greenberg, Olivia Landis and Randy Lange will each answer a series of questions regarding the Jets.
Today's question: What stands out about Jets GM Joe Douglas' offseason approach?
EA: Joe Douglas is a champion. Say what you will about the Jets lack of success recently, but Douglas has been employed at 1 Jets Drive since June. He has three Super Bowl rings, having earned two in Baltimore as a player personnel assistant and as a national scout and one with the Eagles as vice president of player personnel. That 2017 Super Bowl win in Philadelphia happened with a team that had never won a title. He has done this before and he has the blueprint. Douglas had a mic-drop moment when he described the plan: "The plan is to create the best culture in sports. What do I mean by that? I think the best culture, it's a self-sustaining entity where professionalism, leadership, it's transferred from one generation of players to the next. You see that in every great team. Every great team has that culture. That's what we're going to try to create here. What's it going to take? It's going to take people with the right level of commitment, character and competence. Every person, every player that we bring into this building, they're going to be assessed on their fit within our culture and their ability to help us achieve our ultimate goal, which is win a Super Bowl, year in and year out."
EG: There's a lot to digest, but two things stands out to me: communication and Douglas' comments about the line of scrimmage. Speaking on the latter, Douglas said adding players to the line of scrimmage is "always going to be a priority here." That's probably music to Jets fans' ears given the injuries along the O-line this season. It's a rich draft class for offensive linemen and Douglas, a former lineman, will explore every channel to add up front. This quote also stood out to me: "At the end of the day, Mr. Johnson has tasked me with making the final decision on roster moves, but I can tell you that they're not going to be decisions that are made unilaterally." Douglas stressed collaboration is a big part of his process whether that's with Coach Adam Gase or other personnel such as assistant GM Rex Hogan and director of player personnel Chad Alexander. The biggest takeaway, for me, however, is that the Jets are in good hands with Douglas in charge.
RL: Joe Douglas offered several striking observations at his end-of-season news conference. One thing that struck me is that he's committed to doing one of the hardest things probably for an NFL general manager to do, which is to be making the final calls on free agency, trade and draft decisions while encouraging everyone to offer opinions and making them feel those opinions really matter. "Collaboration is big with me," Joe said. "At the end of the day, Mr. Johnson's tasked me with making the final decision on roster moves. But I can tell you there's not going to be decisions that are made unilaterally. There's going to be a lot of inclusion, there's going to be a lot of collaboration, and we're going to work together to do what's best for the New York Jets." That kind of captures what Christopher Johnson said last May in what he was looking for in his new GM: "It's more than a talent evaluation guy. I want a great strategic thinker, a great manager, a communicator, someone who can collaborate well within the building." Having spoken with Douglas and heard him communicate within the building, I don't doubt that he's going to expand on the inclusion that he's already introduced at One Jets Drive.
OL: One thing that stood out most was Douglas speaking on taking advantage of the time after he was hired to establish relationships and implement his approach without the rush of the big offseason events. "You could really get your processes in place, communicate with the people on your staff about what expectations are, how processes are going to change and what the grading scale's going to be," Douglas said about the timeline of his hiring. This is important, especially for an individual who has harped on character since stepping into the building. In addition, Douglas has made it clear that he is very detail-focused and will approach the signing and re-signing of each player individually, calling it a "case by case basis". This method says a lot about how much he values bringing success to the Jets organization, and I'm looking forward to seeing him make moves this offseason.