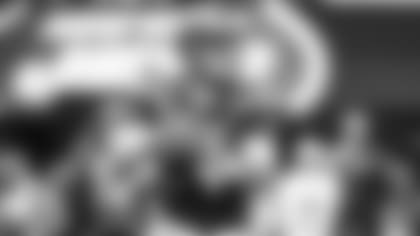 Throughout the season, NewYorkJets.com reporters Eric Allen, Ethan Greenberg, Olivia Landis and Randy Lange will each give their predictions to a series of questions regarding this year's Jets.
Today's question: What should we expect from Sam Darnold in his return vs. Cowboys?
The offense needs a spark and Darnold is a game changer. He's an accurate long-ball thrower and just a couple of completions down the field will make defenses think twice about constantly loading the box. The second-year QB has great chemistry with Robby Anderson and those two were just a hair off in Week 1 on a couple of vertical strikes against the Bills. Jamison Crowder caught 14 balls in his only game with Darnold and veteran Demaryius Thomas has already raved about his leadership.
Le'Veon Bell has consistently referred to Darnold as a "special player" and Adam Gase has referred to him as an "eraser-type" performer. Darnold's effectiveness in the passing game can ultimately provide Bell more space on the ground. The Jets will still be a work in progress against the Cowboys, but this is their guy and he's a playmaker. He can help the line with designed rolls and by creating with some backyard ball skills. You can't expect him to be perfect, but Darnold is going to read quick, drop some dimes and bring a jolt to a unit that desperately needs it.
EG: The second-year jump. For the first time in 2019, Darnold will play at full strength Sunday. Despite playing in Week 1 against the Bills, the QB said he didn't feel 100% and two days later, he was diagnosed with mono. The 2018 No. 3 overall pick came on strong at the end of last season as he posted the top QBR in the NFL in Weeks 14-17, which led to many believing the 22-year-old would take a similar jump to other Year 2 signal-callers in years past such as Carson Wentz, Jared Goff and Deshaun Watson. With this offense, I think Darnold allows the unit to run on all cylinders. I think Adam Gase will unleash the full gamut of what we saw glimpses of in the preseason and defenses can't load the box with Darnold back. However, while it's great that No. 14 is back, he's just 1 of 11.
OL: I think we can expect a sense of urgency within the offense. Since having to sit the past three contests with mono, Sam Darnold has been itching to get back out on the field and play. Prior to the Jets-Eagles game, the second-year QB told reporters it's not a good feeling to have to sit back and not contribute to the game and be there for his teammates. After being medically cleared on Tuesday for the start vs. the Cowboys, the excitement inside the locker room was real. Darnold's teammates and coaches— including RB Le'Veon Bell and HC Adam Gase—expressed their confidence in Darnold and what his presence will do for the offense. Darnold's strengths in being able to extend the play, spread the field and connect with multiple players will not only give Gase more flexibility in play-calling, but will also put the ball in multiple hands.
RL: I don't know how fair it is to expect Sam Darnold, after missing the last month with mono, to come back immediately and complete 65% of his passes to the tune of a 95.6 passer rating (his personal numbers for his last five starts), all against the Cowboys' No. 9-rated pass defense no less. I'd like to see it, but is it fair? But what Darnold can provide is a spark toward better play by the offense. With his quick release, ability to move in the pocket and upfield, and prospect of getting more skill players involved in the O, Darnold should be able to improve some of the Jets' No. 32 rankings, in categories such as TD drive rate (4.0%), 3-and-out rate (36.0%) and total yards/game (179.5). Third down will be a key battleground -- the Jets are last in the NFL in converting, the Cowboys second in the league in stopping conversions. Sam needs to do the things he can do to help the Jets generate some drive juice and give the Cowboys a run for their money at MetLife.