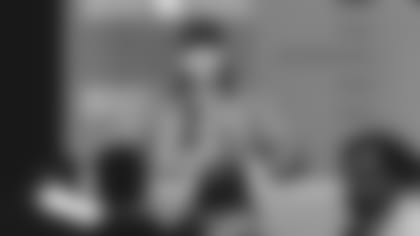 Throughout the offseason, NewYorkJets.com reporters Eric Allen, Ethan Greenberg, Randy Lange and Caroline Hendershot will each give their predictions to a series of questions regarding this year's Jets.
Today's question: What should the Jets do with their No. 13 pick?
EA: If the Jets stay at No. 13, tackle feels like the safe play. It's hard to imagine fewer than three quarterbacks being selected over the first 12 picks. Bryce Young (Alabama) and C.J. Stroud (Ohio State) are seemingly locked into top-five positioning. Will Levis (Kentucky) and Anthony Richardson (Florida)aren't as polished, but they are big-time talents that QB-needy teams might find too appealing to pass on. Edges Tyree Wilson (Texas Tech) and Will Anderson (Alabama) will be gone early, and it's expected the corner pair of Christian Gonzalez (Oregon) and Devon Weatherspoon (Illinois) won't have a long wait either. There are questions whether Jalen Carter(Georgia)falls, but he might be the top overall prospect in the entire class. Paris Johnson (Ohio State) and Broderick Jones (Georgia) would be intriguing options at No. 13. Some clubs probably will view Peter Skoronski (Northwestern) as a RT or G and Darnell Wright (Tennessee) has impressive tape. If the Jets don't feel great about their options, maybe they find a dancing partner for a potential move back?
EG: I know this has been the popular selection in almost all mock drafts, but it's hard not to say offensive lineman. GM Joe Douglas and HC Robert Saleh want to build in the trenches. Granted, Douglas leans more to the offensive line and Saleh the defensive line, but their strategies are aligned. This year's offensive tackle class is deep and talented according to many experts, similar to the 2020 Draft that featured Andrew Thomas (No. 4 overall), Jedrick Wills (No. 10), Mekhi Becton (No. 11) and Tristan Wirfs (No. 13). This year, the group features Northwestern's Peter Skoronski, Georgia's Broderick Jones, Ohio State's Paris Johnson and Tennessee's Darnwell Wright among others. When looking at the Jets' offensive line, they're projecting starting tackles – Duane Brown and Becton – are returning from injuries. Brown, who will be 38 when the season begins, and Becton, who has taken 48 snaps over the past two seasons, are entering the final year of their contracts (unless the Jets exercise Becton's fifth-year option, which would be after the draft). It wouldn't surprise me if the Jets went in a different direction, but it makes a lot of sense on paper when building for this season's team and for the future.
RL: I'll take my cue from GM Joe Douglas, who said 51 weeks ago in last year's predraft news conference: "I feel like the O-line and the D-line have always been our focus and will remain our focus." Now, does that mean the Jets throw out their value board once the draft begins? Heck no, since three of last year's first four picks were non-trenchmen (CB Sauce Gardner, WR Garrett Wilson and RB Breece Hall). But this year's draft seems like it might have great value around lucky No. 13 at the exterior OL (tackle/center) and the interior DL (also tackle). Douglas at year's end said: "In an ideal scenario you've got your starting five and all of them are playing together all year." So, especially at tackle, will it be some combination of Duane Brown, Mekhi Becton and Max Mitchell to settle LT down, or will some rookie take charge? And at DT, who is the big-body brick wall that can help Quinnen Williams do on the inside what Carl Lawson, John Franklin-Myers, Bryce Huff, et al., did last season on the outside? I think for the Jets this year it'll all be about the LOS.
CH: If the Jets do not trade back from their No. 13 first-round pick in the draft this year, I think the most obvious choice would be an offensive lineman. The Jets O-line last season dealt with a series of injuries throughout last season and was not able to perform at its best. Between losing Mekhi Becton before the start of the season, losing Alijah Vera- Tucker in Week 7, to even Duane Brown playing through injury, the O-line struggled to stay healthy. I think drafting a center makes most sense for the Jets because Connor McGovern remains a free agent. But overall, a stronger and deeper offensive line will setup the Jets' offense to be more production on the ground and through the air.