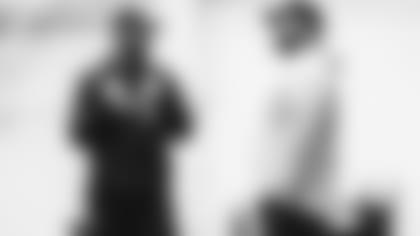 Each year, ESPN's Bill Barnwell publishes a trade-only mock draft where he projects one trade for each selection in the first round. In addition to a potential Jets trade at No. 11, Barnwell included the Green & White in two other scenarios — one where they receive EDGE Yannick Ngakoue from the Jaguars and another where the Jets jump back into the first round by way of the 49ers.
Trade Scenario No. 1: Philadelphia Eagles
Jets receive: No. 21, No. 103, 2021 third-round pick, CB Rasul Douglas
Eagles receive: No. 11
Barnwell's reasoning: "Jets general manager Joe Douglas is also in the market for a wide receiver for Sam Darnold, but given their needs and a run of dismal drafts in years past, he might need to buy in bulk. Trading down would give them an opportunity to add somebody at No. 21 and another wideout with what would be one of three third-round picks. The unrelated Rasul Douglas would be a flier to compete at cornerback in the final year of his rookie deal."
Analysis: The Jets move back 10 spots and collect a pair of third-round picks, one in this year's draft and one in 2021. That would give Joe Douglas four picks in the top 105 selections and three in the third round. With solid depth in the middle rounds, particularly at WR, the Jets could add more day-one contributors, if not, starters. In this scenario, they also add a former third-round CB, who Douglas is familiar with from his time with the Eagles.
Trade Scenario No. 2: Jacksonville Jaguars
Jets receive: No. 20, No. 137, EDGE Yannick Ngakoue
Jags receive: No. 11, No. 68 (via NYG)
Barnwell's reasoning: "The Jets re-signed Jordan Jenkins to a one-year deal but didn't do much to address a pass rush that ranked 26th in adjusted sack rate last season. Ngakoue would slot in as an instant difference-maker for the Jets, who would still be able to draft a wide receiver with the 20th pick."
Analysis: The Jets add a very talented pass rusher in Ngakoue, who has totaled 37.5 sacks in four seasons with the Jags. The 25-year-old has had at least 8 sacks in each of his first four seasons and has also a career 14 forced fumbles. Douglas would still have a first-, second-, third- and two fourth-round picks in this year's draft for moving back nine spots and dealing the third-round pick the Jets received in exchange for DL Leonard Williams in October.
Trade Scenario No. 3: San Francisco 49ers
Jets receive: No. 31
49ers receive: No. 48, No. 79, No. 158
Barnwell's reasoning: "Wide receiver? Tackle? Cornerback? The Jets need help just about everywhere, so while they could hold on to the extra pick they received from the Giants for defensive lineman Leonard Williams, this would be a move to go and grab someone who might be an immediate starter at one of those spots."
Analysis: The Jets have the ammunition to move up with eight total draft selections and four in the top 79 while the Niners don't have second-, third- or fourth-round picks. The Jets hold on to their better of two third-round picks and while they forfeit their second-rounder, Douglas would draft someone higher on his board than at No. 48.