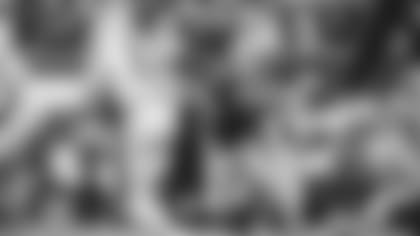 Throughout the season, NewYorkJets.com reporters Eric Allen, Ethan Greenberg and Randy Lange will each give their predictions to a series of questions regarding this year's Jets.
Today's question: What is the top matchup to watch in Jets-Dolphins?
EA: The Jets have played four quarterbacks through nine games and they'll start their third different QB on Sunday when Joe Flacco takes command of the offense vs. the Dolphins. Despite the QB instability and a 2-7 record, the Jets have reason to be excited about the excellent play of LG Alijah Vera-Tucker, WR Elijah Moore and RB Michael Carter — all rookies — on offense. But the Jets have to find some answers on defense and that group's success is predicated on the performance of the defensive line. Over the past four games, the Green & White has yielded 1,890 yards as opponents have averaged 43 points an outing. The Dolphins have some talent at the skill positions, but they've struggled to block up front. The Dolphins rank last in the NFL in rushing (72.6 Yds/G) and tied for 25th in sacks allowed (27). NFL.com's Cameron Wolfe pointed out this week that the Dolphins have allowed the most QB pressures in the league (145), per Next Gen Stats, and have started six different offensive line combinations. The Jets defense has endured key injuries along the defensive line and at safety, but they have to play better over the final eight games. That has to start up front vs. a Dolphins club that is averaging 17.7 points a game and relies on a short passing attack with QB TuaTagovailoa.
EG: I think the Jets defensive line needs to take advantage of Miami's offensive line, but perhaps more importantly, the defense needs to limit explosive plays. The Green & White defense has allowed an average of 43.8 points per game since the bye week and ranks last in plays going for at least 20 yards (52). The Jets' 147 plays allowing at least 10 yards is tied for 30th. While the Dolphins haven't pushed the ball downfield this season (25th in the NFL in plays over 10+ yards, 22nd in 20+ yards), they have players with explosive capabilities, particularly rookie WR Jaylen Waddle. Waddle, the sixth overall pick, runs a 4.3 40-yard dash and averaged 19.5 yards per reception in 2020 at Alabama. He leads the Dolphins with 60 receptions and 557 yards, but is averaging 9.3 yards per catch, which shows he's getting the ball underneath as opposed to over the top. The Jets' defense needs to be aware where he lines up. Conversely, the Green & White offense ranks middle of the pack with 126 plays of at least 10 yards -- 15th in the NFL -- and 33 plays of at least 20 yards, which is tied for 19th. Miami's defense is second-to-last in plays allowed of at least 10 yards and last in the NFL in plays allowed of more than 20 yards. So while this matchup won't ever see the field at the same time like the OL and DL, it's an important one to monitor.
RL: I'll go right to the top and say Sunday's key matchup is between the head coaches. Robert Saleh is being tested by what it's like to not be winning in the New York market. He's trying to jump-start the W machine — as he explained this week about going to Joe Flacco over Mike White at QB, Joe "has a steadying experience that we thought would put us in the best position to win." Defense is Saleh's specialty and he's working overtime to get his mostly inexperienced, banged-up D back on track and humming against a struggling Dolphins O. His Jets are home, where they've won two of four games. Brian Flores' team is on the road, where they've lost their last four. But Flores got his defense cranking in home wins over Houston and Baltimore the past two weeks. And while the Dolphins are 4-17 in September-October under Flores since he became their HC in 2019 (31st in the NFL, ahead of only the Jets' 3-18), in November-January those same 'Fins teams are 14-7, sixth best in the league. It's actually a huge game for these AFC East rivals and for their young football bosses trying to change cultures and build foundations.