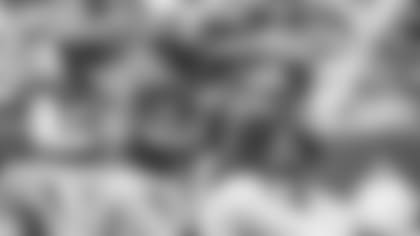 Throughout the offseason, NewYorkJets.com reporters Eric Allen, Ethan Greenberg, Randy Lange, Caroline Hendershot and John Pullano will each give their predictions to a series of questions regarding this year's Jets.
Today's question: What is the most important matchup in Jets-Ravens?
EA: There are a lot of intriguing matchups, but I'll take the Jets rush defense vs. the Ravens rush attack. Last season, the Ravens ranked 3rd in rushing and the Jets finished 29thagainst the run. Since Lamar Jackson took over for Joe Flacco in Baltimore in 2018, the Ravens have led the NFL in rush yards/game (186.7) and rank third in points per game (27.9). Jets DC Jeff Ulbrich said facing Jackson is a "headache," but his guys will be up for the challenge. First down will be critical because Ulbrich wants the chance to play more "normal football" on second down, and then the Jets can get creative on third down. The Ravens are going to get their yards on the ground, but can the Jets stay gap disciplined and get 11 hats on the ball? If the Jets can keep the Ravens in the 150-yard range, this game should be decided late. And if the Jets make the Ravens a passing team Sunday, they're going 1-0. Carl Lawson, Jacob Martin, Jermaine Johnson, Bryce Huff and Micheal Clemons can all wreak havoc off the edge and the Quinnen Williams is poised for a huge year in the middle while John Franklin-Myers' versatility provides an important chess piece.
EG: The answer here is how the Jets defense fares against Lamar Jackson, but let's dive a little deeper. I'm curious to see how the Jets will guard TE Mark Andrews, who led the Ravens in receptions (107), yards (1,361) and touchdowns (9) last season. Jackson no longer has vertical threat Marquise "Hollywood" Brown (traded to Arizona) at his disposal, too. Jackson's completion percentage and passer rating significantly decreased without Brown on the field last season. He completion percentage dipped from 65.8% to 55.8%, and his passer rating from 88.7 to 75.9. Baltimore's receiving corps is unproven. Rashod Bateman, a first-round pick in 2021, had 46 receptions, 515 yards and 1 TD last season while Devin Duvernay, a third-round speedster drafted in 2020, had 33 catches, 272 yards and 2 TDs. If the Jets are able to force Jackson to throw away from Andrews and to their receivers, he'll be throwing to their new-look secondary led by D.J. Reed and rookie Sauce Gardner. Offensively, the offensive line. Duane Brown is dealing with a shoulder injury that could lead to more shuffling up front. If the OL can control the line of scrimmage, specifically in the run game, they'll be able to avoid a strong Baltimore secondary while opening up the pass.
RL: The matchup of Jets edge defenders against QB Lamar Jackson, hands down. The last time the Jets ran into him, at Baltimore on TNF in 2019, Jackson completed 15 of 23 for 212 yards, threw 5 TD passes, ran 8 times for 86 yards, was sacked once for zero yards and didn't turn the ball over. Nice night's work, can't be repeated if Jets are to prevail. But the cast of characters is different. Carl Lawson makes his Jets debut at edge, as do rookies Jermaine Johnson and Micheal Clemons, as does Jacob Martin. Bryce Huff is also outside, as will be John Franklin-Myers on occasion. The Ravens tackles are Ronnie Stanley (DNP Thursday with an ankle injury) and Morgan Moses, whom the Jets and their fans know from last year's 16 starts at RT. As DC Jeff Ulbrich said, "Is it tough? Absolutely. Are we excited about it? Absolutely," adding about defending Jackson, "It goes back to college when you played the triple options and veers. You've got to play rules football a little bit. We've been preaching it all week long. Guys have a good idea of what we have to do. This is rules ball." And this matchup will be a large key to which team rules in this opener at MetLife.
CH: While controlling Lamar Jackson is going to be a big point of emphasis on Sunday, the most important matchup for me is the Ravens rushing defense vs. the Jets running backs. The Ravens rush defense ranked 1st in the NFL only allowing 84.5 rush yards per game last year. RBs Michael Carter and Breece Hall who will be taking majority of the rush attempts will face the biggest challenge with the defense. Hall is coming off an FBS record of at least one rushing touchdown in 24 consecutive games at Iowa State while Carter led the Green and White last year in rushing yards with 639. If the Jets' RBs can figure out how to get past the Ravens defense, it could be a game changer.
JP: Maybe not the most glamorous choice, but with defensive coordinator Jeff Ulbrich stressing run defense this week, the matchup between the Jets corners and Ravens wide receivers has flown under the radar. Last season the Green & White surrendered the third most passing yards in the league (4,409). Over the offseason they signed veteran D.J. Reed and drafted Sauce Gardner No. 4 overall in April's NFL Draft to upgrade both outside starting corner spots while returning nickel Michael Carter II. Reed started 14 games last season, had two picks and 10 PDs for Seattle. In his final year at Cincinnati, Gardner logged 3 interceptions and did not allow a touchdown. And Carter II stood out in the slot last season producing four TFLs and four PDs. Baltimore passed for the 13th most (3,961) yards last season and traded away their leading wide receiver in yards (1,008) Marquise Brown leaving second year receiver Rashod Bateman – 515 yards last season – and third year Devin Duvernay – 473 career yards – as the primary options. When talking to reporters Ulbrich said: "It goes back to the run defense; it has to be exceptional this game." So, if the Jets revamped corner room can limit the Ravens' wideouts and allow resources to be put toward stopping the run game, it could go a long way Sunday.