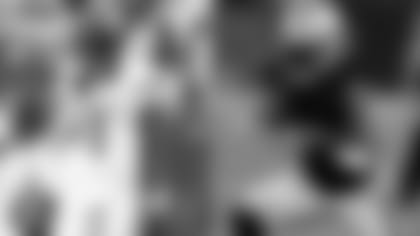 Throughout the offseason, NewYorkJets.com reporters Eric Allen, Ethan Greenberg, Randy Lange, Caroline Hendershot and John Pullano will give their responses to a series of questions regarding this year's Jets.
Today's question: What is the most important Jets-Raiders matchup?
EA: The Jets defense is going to what it does — this is an elite unit that is equal parts smothering and punishing. The only thing the defense didn't do against the Chargers was take the ball away, but there were five-turnover worthy plays. The Raiders are tied for No. 27 with 16 giveaways while the Jets are T9 in takeaways. If the Jets stop RB Josh Jacobs, then they will make this a long night for the Vegas offense. Rookie Aidan O'Connell has some good weapons, including Davante Adams and Jakobi Myers, but they'll be focused on getting Jacobs established to take the heat off the rookie QB. For the scuffling Jets offense, they can't let Maxx Crosby take over the game. Crosby is tied for second in the NFL with 9.5 sacks and is also tied for first in the NFL with 13 TFL. The best way to neutralize a great pass rusher is to run the ball. Breece Hall just had his three-game streak of 90-plus scrimmage yards and 1-plus+TD streak snapped against the Chargers, but he has 90-plus scrimmage yards in each of the Jets' 4 wins. I feel like the team that wins on the ground will take home the victory.
EG: For the Jets, it's stopping Raiders RB Josh Jacobs. Interim HC Antonio Pierce made it clear the Raiders offense will run through its best players – Jacobs and All-Pro WR Davante Adams. The Green & White rank No. 30 against the run and Jacobs is coming off a season-high 26 carries, 98 rushing yards and 2 touchdowns in their win over the Giants. In Weeks 1-8, Jacobs averaged 16.6 carries per game, 51 rushing yards per game and totaled 3 scores on the ground. I'd imagine Las Vegas will try and establish the run to help rookie QB Aidan O'Connell, who, on Sunday, will be making his third career start. DC Jeff Ulbrich and LB C.J. Mosley mentioned how violent a runner Jacobs is and that the Jets will need "population to the ball" to bring him down. Even though Adams is the most-talented player on offense, the Jets match up well with CBs Sauce Gardner and D.J. Reed. If the Jets can contain the Silver & Black's ground game, I think it will be challenging for O'Connell to move the ball through the air against the NFL's No. 3 pass defense that just held Pro Bowl QB Justin Herbert to a career-low 136 yards.
RL: I've written about CB D.J. Reed going up against WR Davante Adams, and that certainly is a key matchup, but with two pros at the tops of their games, that should be an even duel. Most important for me is whichever Jets blockers are trying to get a handle on Maxx Crosby off the edge. Madd Maxx is tied for second in the NFL with 9.5 sacks. He lines up most often on the offense's right side, so whomever is at RT and RG will be on the spot. Max Mitchell looks good at guard, but will injured Billy Turner be available? Will Duane Brown be activated, in which case RT could be Brown or Mekhi Becton or even Carter Warren? But Crosby also lined up over RT, went over the top and helped stop a brotherly shove play recently. Whomever draws No. 98 needs to win battles with him because Zach Wilson has been sacked 21 times in the past four games, a sack rate the Jets hadn't seen since 2019. For Wilson to operate at peak efficiency, it will be imperative to first turn Breece Hall loose, then turn down the volume from Maxx.
*CH: *The obvious answer is Maxx Crosby and whichever Jets tackle he lines up against. While he predominately lines up against the right tackle, we don't know which Jet will be playing right tackle this weekend. Duane Brown won't be activated this week and Billy Turner is out. HC Robert Saleh said the Jets "have a good plan" on the offensive line this weekend, but Crosby will be hungry. Crosby, the two-time Pro-Bowler, is coming off a game vs. the Giants with a season-high 3 sacks, 3 tackles for loss, and 3 quarterback hits. He already has 9.5 sacks this season, only 3 away from his career high and ranks third among all defensive ends according to PFF with a 91.7 grade. If the Jets can contain him and limit his impact on the quarterback, that will be a huge difference for the Jets offensive production.
JP: The Sunday night game between the Jets and Raiders will boil down to the matchup between Las Vegas's rookie QB Aidan O'Connell and New York's LB C.J. Mosley. The Green & White's captain has continued to be steadying voice for the Jets during a turbulent season. In addition, Mosley, a veteran play caller, has led the Jets to a trio of dominant defensive performances against three of the league's elite QBs – Josh Allen, Patrick Mahomes and Jalen Hurts. The three quarterbacks combined to throw 8 interceptions and averaged 17.7 points per game against the Jets in three starts. O'Connell, who will be making his third career start, has yet to face an experienced play caller and linebacker similar to Mosley. O'Connell is 1-1 this season and has thrown for 522 yards, 1 TD and 2 interceptions. The Jets have yet to face a rookie QB this season, but last season faced two rookie QBs in Kenny Pickett and Skylar Thompson. In three game appearances (1 start), the Jets defense allowed 0 passing touchdowns and created 4 interceptions against Thompson and Pickett. O'Connell will have his hands full with the multiple time All-Pro calling the shots for New York's defense.