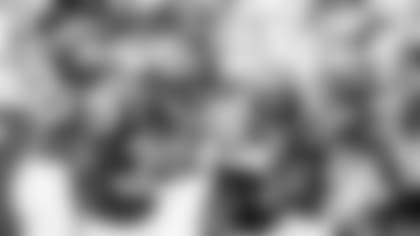 Throughout the season, NewYorkJets.com reporters Eric Allen, Ethan Greenberg, Olivia Landis and Randy Lange will each give their predictions to a series of questions regarding this year's Jets.
Today's question: What is the formula for the Jets to upset the Patriots?
EA: Adam Gase will need a great outing from both of his lines and a couple of takeaways would go a long way. You want to get midway through that third quarter in a one-possession game and take your chances.
Consider history. The 2007 Patriots went undefeated in the regular season and one of their most significant scares came from the Philadelphia Eagles in Week 12. A 24.5-point home favorite over the Eagles, the Pats, who had won their first 10 games by an average of 25 points, were forced to come from behind in the fourth quarter to capture a 31-28 decision. Eagles backup QB A.J. Feeley passed for 345 yards and three touchdowns and were in it until the final gun.
"I went into the game expecting the unexpected," Feely said.
Sound advice for Luke Falk heading into this one.
EG: I almost think the Jets should take a page out of the Patriots book — surgically work the field on offense with shorter gains, run or pass, and minimize penalties (12 vs. CLE in Week 2). If the offense can eat up clock, it'll keep Tom Brady & Co. off the field while keeping the Green & White defense fresh, which would be particularly helpful if C.J. Mosley (groin), Quinnen Williams (ankle) and Jordan Jenkins (calf) don't play. I expect Le'Veon Bell to receive another heavy workload, but Bill Belichick is known for taking away the opponent's top offensive weapon, so someone else on offense will need to step up. Robby Anderson came on towards the end of last week but has yet to total more 24 yards in Foxboro in three games. Defensively, bend, but don't break. A takeaway would be great as would winning the field-possession battle and, of course, solid quarterback play.
OL: For starters, the Jets defense needs to continue the early-season takeaway trend. Their five takeaways (three interceptions and two fumble recoveries) tie for tops in the league entering Week 3. When the defense makes big plays, the offense has to capitalize with points off the opponent's turnovers.
The offensive line also has to set the tone Sunday. Between Buffalo and Cleveland, quarterbacks Sam Darnold, Trevor Siemian, and Luke Falk were sacked a total of eight times. If the line is able to provide solid protection for Falk, it'll open up options on offense and allow playmakers like RB Le'Veon Bell, WR Jamison Crowder and WR Robby Anderson to do what they do best. Falk seemed calm enough in his debut with the Jets, completing 20-of-25 for 198 yards. If he can keep the same composure, the Jets will have a chance to find success this Sunday.
RL: Turnovers are always important, in the NFL and especially when playing the Patriots. The Jets have been very good despite their 0-2 mark with a plus-3 TO margin, which is tied for second in the league. The last time they had a better TO ranking for Week 2 or later was 2015, when they opened with a plus-8 that topped the league after two weeks. But the Patriots are a plus-4 already, since 2016 they're second in the NFL only to KC in overall TO margin (plus-32) and home margin (plus-19). And vs. the Jets, fuhgeddaboutit. In the regular season since 2009 at Gillette, the Jets are minus-19 in 10 games, have recovered just one fumble the last nine meetings and have intercepted Tom Brady just twice in the last five. To have a prayer Sunday, the Jets need decent field position (unlike the Cleveland game), and a big part of that is at least breaking even in the turnover battle.