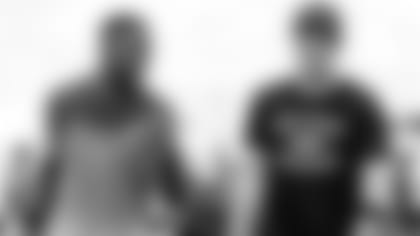 In less than two weeks, the New York Jets will get the regular season underway with a Monday night showdown against the Lions in Detroit. The club held a practice Tuesday morning before departing for the organization's annual Kickoff Luncheon, yet another sign that the season is fast approaching.
"Obviously, you have to play to prove yourself," said head coach Todd Bowles this week. "But I see chemistry and that's all you can see so far is on-field chemistry. You've got to play in games to create your identity and that kind of reputation. So that remains to be seen, but I'm encouraged by what I see."
Encouraged also by the play of the top three quarterbacks on his depth chart, Bowles is operating at his speed in terms of naming a starting passer for Week 1. Sam Darnold, who has started the past two preseason contests and has had an excellent summer overall, is not treating the days any differently. His goal is to be as consistent as possible and take advantage of every opportunity thrown his way.
Darnold has gained acclaim for what he's done with his arm, but he could ultimately become an elite player in this league because of his feet. He is reading well in the pocket and his feet are telling him when it's time to move to the next progression.
"I think just continuing to match my feet with their routes in the back end and be able to time it up, so that I am on time. Doing all those little things to make sure that I am on time," he said this week. "I think that is something that I've learned from Josh and Teddy. Teddy does a great job of getting his feet aligned and knowing exactly what route he wants to throw on what side of the field and getting his whole body turned there, and he's getting his hip into it, so that's something that I can learn from Teddy. I think he does a great job and I just need to continue to work on it, continue to time my drops off, time my jumps up so that I can be able to put, get on my hip and my whole body into a throw."
After lining up mostly in the shotgun formation at USC, Darnold has quickly transitioned to taking snaps under center under offensive coordinator Jeremy Bates.
"I've learned a lot there, seeing the defense and being able to check plays and all that kinds of stuff at the line of scrimmage," he said.
Bowles hasn't revealed his quarterback rotation for Thursday night's preseason finale against the Eagles, but recent signee John Wolford, a productive player at Wake Forest, could be handling the majority of the snaps in the second half. A tryout player at rookie minicamp, Wolford's catching up with the playbook and has an opportunity to cement a practice squad shot with the Green & White.
High-Flying Robby
A breakout performer in 2017, Robby Anderson has caught just one pass in each preseason game. Despite the quiet summer, Bowles says the Jets have been getting different looks at things and the wideout will be ready to sprint out the gate come the regular season.
"Our expectations are no different. Obviously, he produced the last two years," Bowles said. "We look for him to just keep getting better and better. He works hard every day. His name doesn't come up in the preseason because we are doing a lot of different things, but we see the same Robby we saw a year ago. So, our expectations are high for him."
Position Change
Who has led the Jets in tackles this preseason? It's a former Miami Dolphin who was limited last season because of a lingering shoulder injury. He is also a guy making a transition change from outside linebacker in a 4-3 to inside 'backer in a 3-4. Neville Hewitt, who started five games for the Dolphins in 2016, has had a strong camp and his 19 defensive stops pace the defense.
"I'm just trying to learn and keep getting better every day," he said. "If I'm getting better every day, I'm helping the guys around me. I can be accountable."
Bowles said this week that there are five or six roster spots still probably hanging in the balance. Hewitt flashed throughout training camp and he'll probably get a lot of run at Lincoln Financial Field.
"Special teams is huge. Winning the field position is a huge thing and that's pretty much how I made it in Miami as an undrafted guy is find a way to special teams," said the Marshall product in his fourth NFL season. "If that's my role, I'm going to play it to the best of my ability."
The President's Goal
Jamal Adams (aka @presidentmal on Instagram) recently told Erik Coleman, my new co-host on Inside the Jets, what the defense aspires to be in 2018. Their numbers in the preseason have been solid in terms of points (12.3 ppg) and third down (23.3%) while the red zone has been perfect in the very small sample size.
"Our goal every year is to be Top 5 in the NFL. That's our goal," Adams said. "We want to improve on third-and-short. We want to get off the field on third down and we need to make more turnovers than last year. Those are some big goals that we definitely have in the back of our minds. But If we're not doing the little things the right way at all times, we can't reach those goals."
Music and Beer
Jeremy Bates, who doubles as the Jets' offensive coordinator and quarterbacks coach, believes in attacking with balance. Bowles recently told SNY's Ray Lucas what it's been like to work with Bates in the latter's new capacity.
"He's been outstanding because his knowledge not just on quarterbacks but the game in general — he understands when to run the ball," Bowels said. "As great as he is as a quarterback coach, he loves to run the football and that's music to my ears. He is one of those guys who is all ball. His dad was a coach, he's a coach. He lives, eats, sleeps football and it's been a joy to be around him because he is a very funny guy when get him away from football. He's a guy you can have a beer with, but he's a guy who will work football 24 hours a day and I love that part about him."