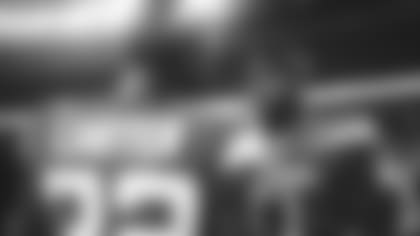 Entering week one, the Jets are confident in a roster that is more athletic and faster and loads deeper than the first season of the Robert Saleh-Joe Douglas era. The Jets will be better at the start and Saleh believes that is the ground floor for a team whose ceiling will be more clearly defined with time.
"We have a really good roster, guys who are internally driven, and I feel like this team is going to continually get better as the year goes on," Saleh said.
Mix of Youth and Veteran Presence
After a 4-13 campaign, expectations will be different for the Jets in Year 2. That is despite QB Zach Wilson rehabbing a knee injury plus a season-ending knee injury to RT Mekhi Becton. The Jets have a pair of more than capable 37-year-olds in Joe Flacco and Duane Brown who remain ready for prime time. While Flacco will keep the seat warm for Wilson if called upon, the Jets hope the durable Brown is their anchor at LT for the entire season. This is a roster with explosive, dynamic playmakers at the offensive skill positions and saucy defensive players on the perimeter, at CB and DE, that will surround a talented middle on all three levels featuring DT Quinnen Williams, LB C.J. Mosley and S Jordan Whitehead.
"It doesn't matter what you roster is, there is pressure to win, especially in this market" Saleh said. "But we all know the goal is to win football games period. That's why we play, that's why we coach, that's why we do the things we do, but you still go in with that same mindset to approach every day, to be your absolute best and find ways to get better. If the result happens to be a 'W,' that's freaking awesome, otherwise you just keep the main thing, and that's find ways to get better."
The Jets are still young across the board, and they'll count significant contributions from a sizable group that has yet to celebrate its 24th birthday: RB Breece Hall (21), CB Ahmad "Sauce" Gardner (22), WR Elijah Moore (22), WR Garrett Wilson (22), RB Michael Carter (23), CB Michael Carter II (23), DE Jermaine Johnson (23), RG Alijah Vera-Tucker (23) and QB Wilson (23). Douglas was wise throughout free agency, signing veterans with valuable experience and players who would come in and add to a culture Saleh continues to instill. CB D.J. Reed, who will start opposite Gardner, and Whitehead are both 25. DE Jacob Martin (26), TE Tyler Conklin (27), DT Solomon Thomas (27), LB Kwon Alexander (28), TE C.J. Uzomah (29) and LG Laken Tomlinson (30) all will be counted on not only on the field but inside the locker room.
"I think we have a pretty intriguing group of youth and veteran presence," Douglas said. "Adding guys like C.J. and "Conk" [Conklin] and Whitehead and bringing in a guy like Duane Brown in here to go along with all of these first-, second-, third-year players, it's a pretty cool group of youth and experience. To watch them compete and gel and build the chemistry and camaraderie, it's really cool to see every day. So, just in terms of the team building, we've tried to use every avenue that we could to improve this team -- draft, claims, trades, free agency. It's led to much tougher cutdown decisions and conversations than in years past."
We Can Line Up Against Anybody
Since late July, the Jets have waived an NFL-high 11 players that were picked up by other teams. That doesn't guarantee a win on Sunday, but that speaks to the group assembled in training camp. Difficult decisions were made after the personnel staff repeatedly found good players and Saleh and his staff developed them.
"I feel like our personnel staff has done a great job pinpointing the right types of competitors, right type of football character to bring in here, and mix with our coaching staff based on the criteria that we have in terms of what we are looking for," Douglas said. "After that, you try to get as many good people in the building as you can, and good things are going to start to happen, and I feel like we are progressing there."
The tide is turning. Saleh is confident in the talent and time will tell which baby-faced assassins the team will lead on in crunch time. Last season, just four of the Jets' first nine games were one-score contests in the fourth quarter. Over the final eight weeks, seven of their games were within a score in the final period. Progress was made, but the next step is getting over the hurdle and winning games on a consistent basis.
"I think it's recognized, obviously throughout the league, so you're very comfortable about the depth of the roster and the players," Saleh said. "We can lineup against anybody. What's going to be fun to watch with this group is who takes the bull by the horns in the fourth quarter and becomes that dude, as you see every week, there are five guys on every team that just take the fourth quarter over. We've got potential on this roster and it's going to be really, really fun to see which one kind of rises to the top."