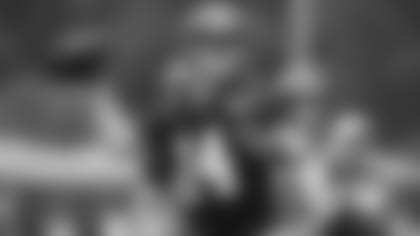 After an up-and-down rookie year that wrapped up with a hot streak, Jets quarterback Sam Darnold is entering his sophomore season with different poise.
"I've been confident throughout OTAs, especially this year just knowing the guys," Darnold said following the first day of minicamp. "Obviously, it's a little bit of a different offense than we had last year, so there's a process in getting to know that. But I'm definitely a lot more comfortable just with the guys and being in the huddle and in terms of communicating and all that kind of stuff."
The 2018 No. 3 overall pick, who turned 22 years old today, found his groove in Weeks 14-17 as he threw for 931 yards, six touchdowns and one interception while completing 64% of his passes.
Despite learning a third offense in as many years, Darnold remains confident his late-season play will carry over into 2019.
"I think I'm all right at kind of being able to separate things," he said. "So, whether it was at USC or last year, I'm very good at just kind of putting stuff behind me and just moving on to the next offense. I feel like I'm the same way on the field — if a bad play happens, I'm able to move on to the next play. I think there's definitely a process there, though, where you've got to erase some stuff out of your memory bank."
The 6'3", 225-pounder knows the goal of head coach Adam Gase's offense come the regular season is to play fast and attack, but for now, the offense continues to install and work out the wrinkles. On Tuesday, Gase said minicamp is "the first step for us to see what we'll evolve into," and Darnold plans to accelerate the chemistry-building process after the offseason program before training camp.
"I think it'd be good to get some teammates wherever we can meet up, whether I'm on the East Coast, whether they come out to the West Coast," he said. "But yeah, definitely after OTAs I'm going to be going back home for a little bit, spend time with family and friends, but definitely looking to meet up with some of my teammates, especially receivers, running backs, skill guys, to be able to get that rapport with them in terms of route running and timing."
Even though Darnold is familiar with most of his supporting cast, he still needs to get used to the offense and his new playmakers such as WR Jamison Crowder and RB Le'Veon Bell, who practiced for the first time with his new team on Tuesday.
"I don't think there's necessarily a certain time period that you can put on it," Darnold said regarding how long he needs to spend with Bell to build chemistry. "It's just kind of when we click, we click. If you remember last year, me and Robby (Anderson) clicked a little bit later in the year. So, there's no telling on when it will happen. Hopefully, it's a little earlier than that. I think me and Le'Veon, we get along well. So, that's kind of the first step in building that relationship."