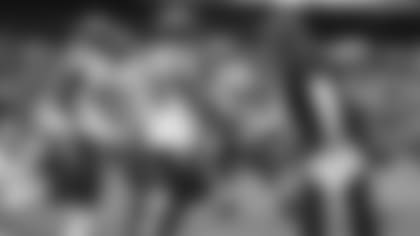 Throughout the season, NewYorkJets.com reporters Eric Allen, Ethan Greenberg, Olivia Landis and Randy Lange will each give their predictions to a series of questions regarding this year's Jets.
Today's question: What excited you the most about the Jon Gruden-Gregg Williams Matchup?
Sometimes people associate the West Coast offense with a finesse attack, but Gruden has a bunch of road graders up front and rookie RB Josh Jacobs has been outstanding. The Jets rush defense leads the NFL in yards allowed (79.1 Yds/G) and yards per carry (2.98). Gruden knows he's going to see boxes loaded with cornerbacks coming up in run support. What happens when an unstoppable force meets an immoveable object? Then consider Williams feasted on a couple of rookie quarterbacks the past two weeks as the Green & White racked up six sacks each of Daniel Jones and Dwayne Haskins in wins over the Giants and the Redskins. The challenge will be different Sunday because Derek Carr is a sixth-year veteran who gets the ball out quickly, having connected on 72.3% of his passes and Oakland is tied for second in fewest sacks allowed (15). Can S Jamal Adams continue his recent pass-rushing tear against Carr and company? I'm fascinated to see the coverage plan for Darren Waller because the Raiders' 6-6, 255-pound tight end is Carr's go-to-receiver and they'll move him around. The Jets are all about pressure and forcing opponents into mistakes, but the Raiders, a club that has only 10 giveaways and also converts 47.6% of the time on third down, rarely beat themselves.
EG: Just keep doing what they've been doing. More specifically, emulate what they did against the Giants. I'd assume the Redskins will want to run the ball to take the pressure off of their young QB, who will be making his second start Sunday. If the Green & White bottle up RBs Adrian Peterson and Derrius Guice and set Washington up with third-and-long, they can pin their ears back and get after Dwayne Haskins. For the season, the Redskins rank 31st in third-down efficiency, converting 24.2% of their attempts. They also rank last in the league with an average of 12 points per game and could be without both RB Chris Thompson and WR Paul Richardson, who are tied for second on the 'Skins with 27 receptions. While I don't expect the Jets to hold the Redskins RBs to 1-yard like they did against Barkley, if they can stop the run, they'll have a good chance to get their third win of the season.
RL: I think the Gregg Williams vs Jon Gruden battle is a great NFL chessmatch. The Jets' defense has been on fire the last several games, packing the NFL's No. 1 run defense and a suddenly awakened pass rush. But 12 of the sacks came against two rookie QBs, the Giants' Daniel Jones and the Redskins' Dwayne Haskins. Those two offenses rank 26th and 28th in yards/pass play. Oakland, however, has Derek Carr, enjoying one of his best seasons. The Raiders' offense is fifth in the league in pass yards/play and sixth in sack rate allowed. Will the Jets be able to pressure Carr and help their secondary? And with a four-man rush as they often employed against Haskins? Doesn't seem likely. Does Williams have S Jamal Adams play more up or back? Will Chuckie try to exploit Jets corner weaknesses or will he turn to two of his most reliable receivers, TEs Darren Waller and Foster Moreau? If Gruden gets the edge in this matchup, it could dictate that Sam Darnold and the offense will have to turn this into a shootout. Interestingly, the average score of Oakland's four road games is 32-23, in favor of the opponents.
OL: I'm interested to see what Gregg Williams has up his sleeve in the pass-rush game against the Raiders this week. With 16 sacks in the last three games, the Jets defensive unit is on a roll, but Jon Gruden's offensive line will present a challenge. Ranked sixth in the league in sacks allowed per pass attempt (4.79%), QB Derek Carr's line up front has helped him achieve a 72.3% completion rate for 2,494 yards, 15 touchdowns and 5 interceptions. Before the Green & White can get after the signal-caller, though, stopping the run is a priority. Ranked first in the league in run defense, Williams will again need to get creative with his unit as it prepares to face a rush-first offense in the Raiders. Gruden's team ranks ninth in the league in rushing yards per game (128.2) and tied for 10th in the league in rushing yards per play (4.53).