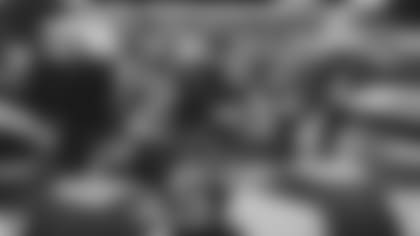 Throughout the offseason, NewYorkJets.com reporters Eric Allen, Ethan Greenberg, Randy Lange and Caroline Hendershot will each give their predictions to a series of questions regarding this year's Jets.
Today's question: What do you want to see from the Jets' starters vs. the Giants?
EA: A clean bill of health. The Jets are in good shape on the injury front as they head into the preseason finale. They made a quick move to sign veteran LT Duane Brown following Mekhi Becton's season-ending knee injury and Joe Flacco is the perfect guy to hold the fort while Zach Wilson recovers from his knee injury. Other than health, I want to see Brown and that O-line get their feet wet together in game action against the Giants' pressure packages. If the Jets are solid up front, they will move the ball and score Sunday and beyond because they have legit skill position talent at RB, WR and TE. As far as the defense is concerned, I want to see a couple of third-and-longs, so we can watch this front go to work. And this will be a cool moment for DE Carl Lawson as he gets his first game action in more than a year. Bring on the regular season though!
EG: From the offense -- efficiency, no pre-snap penalties and points. From the defense -- good pass rush, speed and no explosives. Overall, no injuries. Sunday will be the first time the Jets starting offensive line will play in a game together after practicing together for the first time this week. LT Duane Brown and RT George Fant remained on a pitch count throughout the week, so I'd like to see how they look through a quarter to a quarter and a half of work. The Jets have a talented running back stable and should be able to run the ball, which I'd like to see Sunday. Since taking over for Zach Wilson, Joe Flacco has shown a command of the offense and operates quickly and I expect something similar Sunday, especially if the Giants don't play their starters. Last week the defense allowed a pair of explosive plays although they did not play most of their starters. This week, I'm looking for no explosive plays. This will also be the first time Carl Lawson lines up in a game in more than a year and I'd like to see how he looks in game action. The last game he played was against the Giants, coincidentally, at MetLife Aug. 14, 2021. Regardless how the anyone plays, I'm looking for a clean bill of health once the preseason wraps up.
RL: I remember back in the day, oh, from Y2K to 2018, when the Jets and Giants always played in the third preseason game and their starters always went one half and maybe the first drives of the third quarter. Now when Robert Saleh talks about his Jets playing "between a quarter and a half," we can pretty much anticipate the ones will be resting midway through the second period, if that. Ah well, that's the new NFL for you. What I would like to see from the Jets starters as long as they're in the game Sunday is probably related to two Saleh buzzwords: "Explosives," as in I'd like to see a few big plays out of Joe Flacco and his receivers and backs and none allowed by the defensive starters. That would be some measure that the O and D schemes are showing the "cohesion" the HC wants and would somewhat validate the players' belief in themselves that "the sky's the limit" for each unit and the team in the 2022 regular season. I'd like to see that, plus, of course, no more big or semi-big injuries so the Jets can go in as close to 100% as possible on Sept. 11 opening day to brawl for four quarters vs. the Ravens.
CH: No matter if the Giants play their starters, I want the Jets starters to put their best product out on the field and take what they've done in practices to a game setting. On defense, C.J. Mosley has stressed that a point of emphasis in training camp has been "to get off the field and when everything is on the line, defense makes the play and gets there." I want to see the defense make the plays Mosley referred to and get off the field. Offensively, I want to see practices carry over into the final preseason game. Joe Flacco and the first-team offense have been efficient, fast paced and deliberate in practice. Now it's a matter of making sure that happens in games. I agree with RB Michael Carter when he said "we've been looking good in practice and now it's a matter of translating it to the game."