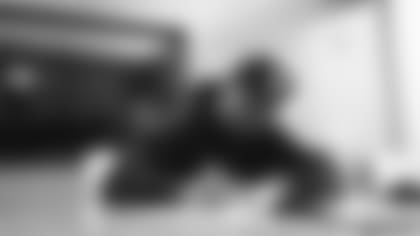 Throughout the offseason, NewYorkJets.com reporters Eric Allen, Ethan Greenberg and Randy Lange will each give their predictions to a series of questions regarding this year's Jets.
Today's question: What do think about the Jets' early signings in NFL free agency?
EA: Early on in free agency, Jets GM Joe Douglas has backed up his words and stayed true to his philosophy. The Jets were aggressive when opportunity and value met, signing players who will help the team on the field and with its culture inside the building. The headliners were DE Carl Lawson and WR Corey Davis, and neither should have come as a surprise. For Douglas, it starts with the line of scrimmage and the Jets had a clear need at DE as they transition to a 4-3. While Lawson's sack numbers are solid, yet not staggering (20 sacks in 51 games), few people have disrupted the QB more the past two seasons and he is viewed as an ascending talent. The Jets wanted playmakers and Davis, the No. 5 pick in the 2017 NFL Draft, is a big-bodied wideout who runs excellent routes and can run. Davis is coming off his best professional season and broke out under Matt LaFleur when the older brother of Jets OC Mike LaFleur was the Titans OC in 2018. The Jets had a pressing need at linebacker and Jarrad Davis, who was selected 16 picks after Corey Davis, possesses good burst, has been a good blitzer and should benefit from a new system. Special teams ace Justin Hardee is a stud and he was a well-liked guy in New Orleans who automatically improves the Jets' kickoff coverage. And according to OvertheCap.com, the Jets are positioned with an NFL-high $50 million under the salary cap. It's a good start and more action will be on the way, but the Jets still are ultimately going to build largely on their drafting success.
EG:The Jets got faster in all three phases with their early signings and added quality individuals. LB Jarrad Davis' 4.62 40-yard dash at his Pro Day would have been the second-fastest time at the Combine among NFL LBs. and Dave Birkett of The Detroit Free Press said he's seldom heard a bad word about Davis. He was one of the Lions' hardest-working players and Birkett said his coaches said he'd play too fast at times. In Corey Davis, while he has no official 40-yard dash from his pre-draft process, ESPN NFL Nation reporter Turron Davenport said he's a complete receiver with size and speed. He said that one of Davis' best seasons came with current Packers Head Coach Matt LaFluer, the older brother of Jets OC Mike La Fleur. Carl Lawson fills a much-needed void off the edge and is one of the NFL's most explosive pass rushers. He may not have premier sack numbers -- 20 in four seasons -- but has been one of the NFL's best players at affecting the QB. Lawson's 54 QB hits over the past two seasons is second among NFL D-linemen to Chargers' Joey Bosa. Lawson also led the NFL with 32 QB hits in the 2020 season. I'm sure Quinnen Williams was happy about this signing, but ST coordinator Brant Boyer was probably equally excited about Justin Hardee joining the Jets. Hardee is one of the NFL's elite special teams players. A former WR at Illinois, Hardee ranks No. 7 in the NFL with 32 special teams tackles between 2017-20 and was a part of the Saints punt-return-coverage unit that set an NFL record for fewest yards allowed in the 2020 season. All four of these players check all the boxes between speed, playmaking ability and culture fit. I think it's fair to say they all fit in the "All Gas,No Brake" mantra.
RL: I think the Jets' free agency start has been pretty much as anticipated: Good amount of activity, good young players to fill and improve some positions, no cap-busting deals. The reworking at wide receiver has been particularly solid as GM Joe Douglas and his personnel team added Corey Davis, who played four years for the Titans; and Keelan Cole, who had four seasons with the Jaguars. Neither one has had a monster year — yet — but they have similar profiles. Both are big targets. (Davis is 6-3, Cole is 6-1.) Both have been available. Both have had steadily productive careers, capped in 2020 by career-type seasons. Both wore No. 84 as pros. Add to the mix the signings of intriguing edge rusher Carl Lawson and G Dan Feeney to continue the rebuilding of the O-line. Perhaps the only area that hadn't been addressed through Thursday was secondary. But of course Joe D & Co. aren't done yet with free agency, and the draft looms large at the end of April.