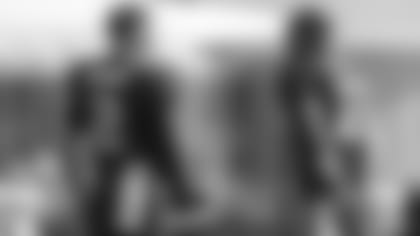 Throughout the offseason, NewYorkJets.com reporters Eric Allen, Ethan Greenberg, Randy Lange, Caroline Hendershot and John Pullano will each give their predictions to a series of questions regarding this year's Jets.
Today's question: What do you expect from QBs Zach Wilson and Aaron Rodgers Sunday at Lambeau Field?
EA: I expect both quarterbacks to play well and this one could be decided late. The Jets have impressive balance on offense, so Wilson can continue to operate as the point guard. Duane Brown's return to the lineup was huge for the offensive line, Breece Hall and Michael Carter are getting it done out of the backfield and the Green & White is the only team in the league that has four players (Hall, Corey Davis, Garrett Wilson and Elijah Moore) with 200+ receiving yards. Rodgers has posted crazy numbers following losses since 2019, firing 24 TDs with no interceptions while going 9-0. Minus Davante Adams, the Pack has yet to find consistency down the field as Rodgers, according to Next Gen Stats, leads the NFL with 32% of his pass attempts coming from behind the line of scrimmage. But I think they'll try to get Aaron Jones and A.J. Dillon going on the ground and they aren't devoid of talent, tying for first with four WRs who've had 100+ receiving yards.
EG: I expect good play from both. Aaron Rodgers and Zach Wilson have different roles in their offenses. Rodgers, the NFL's back-to-back MVP, is a future Hall of Fame QB and Wilson is in his second season. Starting with Wilson, he's improved in his first two games of the season and I expect that to continue. Wilson did a good job of taking what the defense gave him last Sunday. The Packers have the NFL's No. 2 passing defense, so Wilson's chances through the air could be limited. On the other side, I expect Rodgers to try and flip his team's fortune after last Sunday's loss. He said he feels the unit is on the brink of a hot streak. Interestingly, Rodgers has a 34.8 passer rating on deep passes, which is the fourth-lowest among 27 QBs with 10+ attempts. Last season, his 116.6 passer rating was the highest among 39 QBs with 50+ attempts. The Jets' secondary has played well through its first five games, but has not played against a QB of Rodgers' caliber.
RL: This is how Wilson described the Rodgers style: "I think he's extremely accurate underneath, the way he's able to place the ball, and you see his completion percentage, and how he takes care of the ball. Then he's able to be that athletic, scramble-type quarterback a little bit, off-schedule, being able to create plays out of nothing while protecting himself." It sounds a bit like Wilson's maturing NFL style — improving accuracy, protecting the ball better late last year and into this season, an off-schedule scramble kind of guy. Not surprising since Wilson said he impersonated Rodgers from when he was 13 years old in Utah. I'd vote for a game in which the accuracies are both good, there are few if any QB turnovers, and especially a game in which both are handing off the ball a lot, because that's where their offenses' strengths and the other guys' less powerful defensive units seem to be. The better running game will lead to the better passing game and possibly the QB with the winning hand.
CH: Hunger. Both QBs, are going to be hungry for a win. Aaron Rodgers and the Packers are coming off their loss to the Giants in London while Zach Wilson and the Jets have won the last two games in a row. The Packers will be determined after their performance last week across the pond and Rodgers is 9-0 in games after a loss since 2019. Zach Wilson's fourth-quarter stats, however, have been on another level ranking, first in third-down percentage at 83.3% and third in yards per play with 6.94. Wilson has also led five fourth-quarter touchdown drives on his six fourth-quarter possessions. Wilson's 99.3 passer rating in Week 5 vs. Miami was also a career high and he seems more comfortable each week. I think this game will come down to another close fourth quarter as the young QB and the veteran QB lead the battle until the end.
JP: Growing up, QB Zach Wilson used to try and imitate the future Hall of Famer QB Aaron Rodgers on the football field ,and as a rookie – about 14 months ago – Wilson got to meet Rodgers in a set of joint practices and share thoughts and ideas. On Sunday, in their first regular-season meeting, expect Wilson to elevate his game to match Rodgers'. Against Miami, Wilson executed OC Mike LaFleur's play calls at a high level with little risk, completing 67% of his 21 attempts and leaning on the running game. In his third start, with a greater comfort level and need for points, expect Wilson to start taking more shots down field. Rodgers has struggled this season to generate explosive offense during the Packers 3-2 start ,averaging 6.9 yards per attempt. But coming off his last five regular-season losses, Rodgers has put up a gaudy 16 touchdowns and no picks. The Jets will need points to match, and expect a more comfortable Wilson to get the job done.