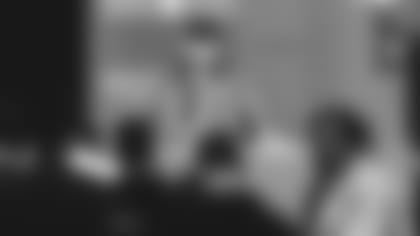 Throughout the offseason, NewYorkJets.com reporters Eric Allen, Ethan Greenberg and Randy Lange will each give their predictions to a series of questions regarding this year's Jets.
Today's question: What do you expect from the Jets in free agency?
EA: As the NFL's offseason moves continue to roll in, the Jets enter the weekend with the fourth-most available cap space according to OvertheCap.comat about $48.5 million. The Colts, who traded Carson Wentz to Washington this week, lead the way in space at a hair under $70 million and the Seahawks, who agreed to flip QB Russell Wilson to Denver and released ILB Bobby Wagner, are embarking on a new era with the third-most cap space at close to $50 million. The recent tags on wideouts Davante Adams (Green Bay) and Chris Godwin (Tampa Bay), plus TEs Dalton Schultz (Dallas) and David Njoku (Cleveland), and S Jessie Bates (Cincinnati) prevented a few bigger names from ever reaching the market. And pass rusher Harold Landry inked a long-term deal with the Titans. While the Jets can enter any conversation during free agency, head coach Robert Saleh said recently that panic buying (and selling) can put organizations in deeper holes. I expect a calculated approach from the Green & White. GM Joe Douglas has talked of more certainty with the pro market than the draft market and he's also reiterated that he'll be ready to strike on the trade front. In a sense, this is the first true offseason with Douglas and Saleh in charge since they had the benefit of learning more about each other and their respective systems during the season. Saleh has said there is a lot of work to be done for the Jets to be in a position to be one or two players away, so balance will be an emphasis for a team still intent on building its core through the NFL Draft. There are clear needs at tight end and safety, plus it will be interesting to see what happens with the list of Jets' UFAs, headlined by Braxton Berrios.
EG: I find it hard to get a gauge on what exactly the Jets will do, but after talking to analysts at the Combine, it seems like all options are on the table. Most expect the Jets to target WR/TE on offense in free agency. The top tight ends like Dalton Schultz, Mike Geisicki and David Njoku, however, were all tagged. I'm not saying there aren't good options on the market but if the Jets we're hoping for a top-tier TE, they'll have to look elsewhere. Regardless of position, GM Joe Douglas has done a great job of executing smart, calculated, contracts. His two biggest free-agent additions last year -- Corey Davis and Carl Lawson — are young, which could be a coincidence or something he values. There are young playmakers available like WR JuJu Smith-Schuster (25) and WR D.J. Chark (25). On defense, I expect the Jets to add players of all shapes and sizes considering they finished last in the league in total defense. That doesn't necessarily mean they'll swing for the fences. With money and a lot of draft capital, Douglas doesn't need to prioritize a particular position in free agency compared to the draft if he doesn't want to. It wouldn't surprise me if the Green & White elect to add up front on the D-line or the secondary though. Whatever happens starting next week, the roster will look different come draft time.
RL: I'll take my cue from GM Joe Douglas, who said recently: "There are a lot of different tools to improve your roster. Free agency is one of those tools. So we have a good opportunity, we have assets that we've acquired, we have financial flexibility." I still would expect the front office to be judicious in the use of those tools. But in Douglas' two free-agency periods as GM, the Jets by my count signed seven unrestricted free agents in the offseason in 2020 and 11 UFAs last year. So I'm expecting veteran arrivals around the low double digits, with a few big-ticket signings in the areas of Jets need. Yet ,I'm also keeping in mind that Joe D talked about "multiple avenues" to improve the roster, so whatever happens in the next several weeks regarding veteran FAs, the draft is a part of Douglas and his staff's offseason calculus. The thing that gets me most hyped is Douglas concluding his analysis of the Jets' position by saying, regardless of which avenues the team drives down to pick up talent in the coming months: "We're going to get this team better in any way we can."