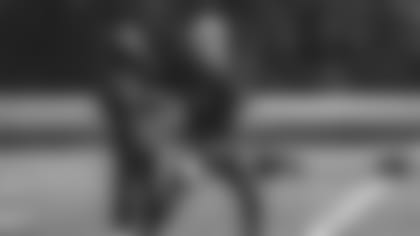 Jets quarterback Sam Darnold's performances of late have caught the eye of Patriots head coach Bill Belichick.
When asked about Darnold's play since returning from a strained right foot in Week 14, Belichick said, "Good decisions, accurate, probably better timing and execution in the passing game with his receivers. More yards, more touchdowns, fewer turnovers."
Over the last three games, the rookie signal caller has thrown for 764 yards, six touchdowns and one interception while completing 66% of his passes for a passer rating of 106.2. Last week against the Packers, the 6'3", 225-pounder threw for a career-high 341 yards and three touchdowns.
"Darnold's a big, athletic kid. He can certainly move if he has to," Belichick said. "He can get out and escape the rush. He's done that plenty of times. He has a solid skillset, no question about it – good arm, can make all the throws, big, strong kid, hard to get down in the pocket, has good feet, can get out if he needs to."
Sunday will mark Belichick and the Patriots' first exposure to the red-hot Darnold, who didn't play in the teams' first meeting in Week 12, won by the Patriots 27-13. New England enters Sunday's regular-season finale with the 23rd-ranked passing defense in the NFL, allowing an average of 254 yards per game. Liked a seasoned vet, the 21-year-old quarterback told the media the Pats' defense, which is known for not surrendering a lot of points (21.5/game), does "everything right."
"That's what they've been doing and that's what Belichick-coached teams do," he said. "They just do the right thing and they are in the right spot and they make plays. We've just got to go out there and do the same thing, make our plays and take advantage of opportunities when they're there."
While the No. 3 overall pick won't literally line up against Patriots quarterback Tom Brady, he relished the opportunity to go toe-to-toe against an all-time great, much like last week against Aaron Rodgers and the Packers.
"Yeah, there's always something there whenever you're playing Brady, guys like Rodgers and everything like that," Darnold said. "For me, I grew up watching those two play and dominate, so at the same time, I'm not just going to ignore the fact that I'm playing those guys. I know that I am and I want to step up, but at the same time, every single game that's my mentality.
"From that aspect, you want to look at it and be like, 'Aw man, I'm just going to go out there and do what I do.' But at the same time, you want to play well when you're going up against those guys. Not that I don't want to play well when I'm going up against those guys, but there is a little something extra there."
Best Images from Wednesday's Outdoor Practice Leading Up to the Trip to New England