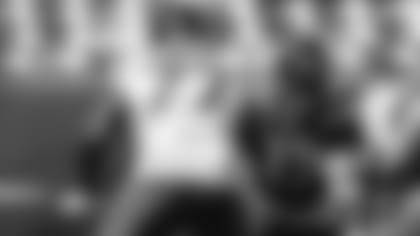 Throughout the offseason, NewYorkJets.com reporters Eric Allen, Ethan Greenberg, Randy Lange and Olivia Landis will each give their predictions to a series of questions regarding this year's Jets.
Today's question: What are your expectations for the Jets rookie class in Week 1?
EA: Mekhi Becton is a big man who is going to play a big role for the Jets at Buffalo. If the No. 11 overall selection in the draft does get the start at left tackle, as he was listed on the unofficial depth chart, he will have the primary role of blocking Bills RDE Jerry Hughes. Becton, 6-7, 363 pounds, benefited from his 1-on-1s with Jordan Jenkins in camp. This will be the first time we see him in live game action and he'll get his feet wet against an edge rusher in Hughes who has racked up 51.5 career sacks. Becton, a dominant rush blocker at Louisville, can make an immediate impact on the ground by creating holes for Le'Veon Bell and Frank Gore, and that potentially could set up some favorable play-action situations for Sam Darnold. Ashtyn Davis, a third-rounder out of California, is a smart performer who lets his play do the talking. He should produce immediately on special teams and it will be interesting to see how much run he gets in packages on defense. The athletic Davis is physical and he flies around the field. Finally, Braden Mann will likely kick on a balmy Buffalo afternoon but that predicted wind of 19 MPH could be tricky.
EG: I expect a mixed bag filled with typical rookie bumps, especially with no preseason games, and flashes of good play. Mekhi Becton has been practicing for weeks against the Jets defensive front, particularly Jordan Jenkins and Quinnen Williams, and his first test is crafty veteran Jerry Hughes, who's totaled 51.5 sacks in his 10-year career. Hughes (6-2, 254) is more than 100 pounds lighter than Becton, so there could be plays where Becton gets the best of Hughes. I think third-round S Ashtyn Davis will see defensive snaps in a rotational setting, mixing in with Marcus Maye and Bradley McDougald, but could be heavily involved with special teams early on. Davis had a good training camp and defensive coordinator Gregg Williams deployed three-safety looks last season as well. Rain is in the forecast Sunday afternoon at Orchard Park, NY, which will be an early test for P Braden Mann not only as a punter, but also as a place-holder. Special teams coordinator Brant Boyer said that Mann did a good job in training camp, but the team wasn't able to practice at full speed against one another.
RL: I expect a good showing from the Jets' 2020 rookie draft class on Sunday at Buffalo. No. 1 pick Mekhi Becton is the starting LT and blindside protector for Sam Darnold. He should give as good as he gets from tough veteran RDE Jerry Hughes. No. 2 pick WR Denzil Mims should have some opportunities to show off his size and speed (assuming his hamstrings cooperate). No. 3 Ashtyn Davis will be a key contributor at least on Brant Boyers' return and coverage units. Fourth-round RB La'Mical Perine also gives the vibe that he'll be an offensive contributor at some time early this year, although he's got a sore ankle that has kept him sidelined for almost two weeks. And it's hoped that sixth-round P Braden Mann, who at Texas A&M won the Ray Guy Award as a junior and set the FBS season gross record with a 51.0-yard average as a senior, will air-mail a few kicks in western New York. And dare we see a little pass-rush giddyup from undrafted rookie DL Bryce Huff if he's active? There will no doubt be growing pains but this group offers the promise of production.
OL: I have high expectations for the Jets rookie class in Week 1. According to the unofficial depth chart released earlier this week, LT Mekhi Becton will be starting along a line that consists of four new starters. The team's 2020 second-round pick, WR Denzel Mims, is listed as the second-team wideout, RB La'Mical Perine will be one of three players in the backfield, and S Ashtyn Davis is also expected to get in the mix after having a successful training camp. And let's not forget punter Braden Mann. This rookie class — with the exceptions of those on IR and PUP — will play a critical role on offense, defense and special teams. With a condensed training camp schedule, no preseason games, and no spring practices, the newbies will be expected to step up immediately and contribute. Even with all the pressure and expectations, I'm confident this group will have an impact on the game.