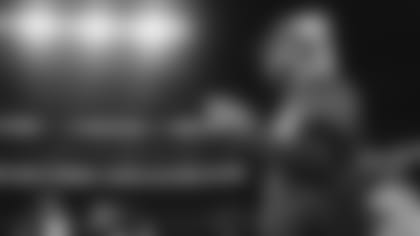 Count Adam Gase as one of those NFL observers who likes to take a look at the newly released schedule for his team and see what appeals to him and what doesn't.
Just don't expect the Jets head coach to have the same likes and dislikes as everyone else.
In an interview with Eric Allen on newyorkjets.com after the NFL released its 2020 regular-season schedule Thursday night, Gase counseled that with the all teams just beginning virtual offseason programs due to the COVID-19 situation, and with opening week still well down the road, "You don't want to get too far ahead of yourself." But, Gase added, "It's always good to kind of know who you're starting off with."
For fans, that might mean weighing the possible difficulty of the Jets' opening three games — at Buffalo against the Bills, a playoff team last year, home for San Francisco, the NFC's Super Bowl LIII participant, and on the road for an on-the-rise Indianapolis outfit. But Gase had a different approach.
"I don't ever remember looking at an NFL schedule and marking games off before they're played," he said before dwelling on only the opener. "I feel like that Buffalo matchup seems to be kind of the norm for us, playing them in the first game. Obviously when you've got two guys [QBs Sam Darnold and Josh Allen] that were in the same draft class and are close and are competitive against each other, that's always a good Week 1 matchup for both our organizations."
Gase also had an interesting personal take on the Jets' two home primetime affairs and in particular for the Week 4 Thursday night game against the Denver Broncos at MetLife Stadium.
"Actually, I'm a little fired up that we'll experience a home Thursday game," the coach said. "I feel like I've been on the road quite a bit the last five or six years on Thursday nights. It'll be nice to be home there playing Denver. I think the last time I actually played a home Thursday game was [when I was] at Denver."
Gase's recollections are all correct. The last TNF home game he was involved in was as the Broncos' offensive coordinator in 2014. Since then, his teams — Chicago in '15, Miami from '16-18 and the Jets last season — have played five TNF games, all of them on the road. The only win was by the Bears at Green Bay.
His personal observation has some relevance to Thursday competitive advantage around the league. Road teams traditionally struggle more in Thursday night games than home teams, for at least one obvious reason of having a short week made even shorter by travel. The records bear out this imbalance: Since 2015, home teams each year have won more than half of all TNF games and 49 of 77 total, for a robust .636 win percentage.
Gase also applied a coach's spin to Weeks 10-12, when the Jets play at Miami, have their bye week, then host the Dolphins: "I know anybody that's breaking down film for us is probably loving life. Not a whole bunch of additions going on there."
As for that imposing two-game road trip to Seattle and the L.A. Rams in Weeks 14-15, he said, "It's fun in that the NFC West for sure is a hot division right now. They're putting out four teams that are really tough."
But Gase wrapped up his analysis by saying he needs to get farther into the offseason schedule before he sees the regular season looming on the horizon.
"It doesn't even feel like it's close," he said. "It's really about preparing our guys, going through what we need to do to make sure they're prepared for the day we get back and we've got to step on the field and start executing plays in real time and going against another team. Then that'll start feeling real."
See the 2020 Schedule in Photo Form