Ryan Fitzpatrick is right, of course. As acidic as the memory of Cincinnati was, as beautiful as Buffalo still feels, it's best to go on to Kansas City.
But there are still a few things to reflect on from Thursday's 37-31 victory over the Bills because of what they could portend for the future. Namely, the way the offense lit up the night.
Let's start with the wideouts.
"I think sometimes we try to make it a little overcomplicated," Fitzpatrick said after today's practice at the Atlantic Health Jets Training Center. "Sometimes it's kind of that easy – one-on-one matchups, my guy versus the other guy. But there is a lot that goes into it. There's protection up front that has to be good, the ball placement has to be good, those guys have to run great routes and beat their guys. There is a lot that goes into it. It's not as simple as that. We had it working pretty good."
Here's a measure of how good: Eric Decker (126 yards), Marshall (101), Quincy Enunwa (92) and Jalin Marshall (45) combined for 364 of the Jets' 374 passing yards — the most yardage by wide receivers in a game in franchise history. (Ken O'Brien, in the photo below, was the QB for two other big WR games, both in 1986.)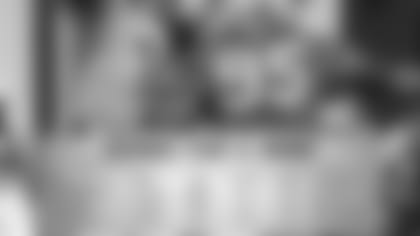 Further, the eight receptions of 20-plus yards, all to the wideouts and at least one to each of the four, tied for the second-most 20-plus pass plays in a game in Jets history. The last time they had that many was the Christmas Eve 2000 game at Baltimore. The last time in a win: 1972 at the Baltimore Colts in one of Joe Namath's legendary aerial assaults. The only game with nine: 1971 at Shea Stadium against San Francisco, a 24-21 loss.
"Team success equals team success," WR Brandon Marshall told Eric Allen in the Atlantic Health Jets Training Center locker room this afternoon. "Sometimes you think about individual statistics and you have one guy playing at a high level and that doesn't always equate to wins. When you have three receivers close to 100 and a running back over 100, I think that's almost like dominant."
Marshall admitted he was a little surprised the Green & White got all that done in one game, "but I'm not surprised that our guys are playing at a high level."
Marshall and Fitzpatrick insisted on including Matt Forte's 100-yard rushing game that included a franchise-record-tying three rushing TDs. It factored into the passing game success, as did coordinator Chan Gailey's game plan.
"If you look around the league at how many tailbacks last week had 30 carries, I don't know if you'll find one," Fitzpatrick told me. (In fact, only the Steelers' DeAngelo Williams has had more in a game this season, 32 on Sunday vs. the Bengals.) "I think a big thing with Chan's offense is staying balanced. Even some of the play-action setting up some of the down-the-field throws were a good indication of a balanced attack."
The combination of all those things enabled the Jets to drive the ball, again, like they rarely have done in their history. (More on that later this week.)
But Fitzpatrick sounded the kind of cautionary note heard 'round the league each week, that the Jets won't just be able to roll their helmets onto the Arrowhead pitch and expect to move the ball as well as they did at New Era Field.
"It's every week coming in here, getting the game plan right, and then going out and making the plays on Sunday," the QB said. "I just know that the NFL is a very humbling league. So the second you think you've made it, you've got it, you will be humbled.
"So let's take some confidence from this last game, but let's also put it to bed and move on just like we did when we played Cincinnati and lost. Let's put it behind us and move on. The Thursday game will probably help that because it stretched out the weekend a little bit. But I think we have the right guys in this room to do it."
And so now, only now, it's on to the Chiefs.