Leon Washington's season is over after the Jets placed their Pro Bowl running back/kick returner on injured reserve today by the Jets. But Washington, who underwent successful surgery on his broken right leg in Northern California on Sunday evening, is recovering well and is in an excellent frame of mind.
"I talked to Leon last night and he was in great spirits," head coach Rex Ryan said at this afternoon's news conference the day after the Jets' 38-0 triumph over the Raiders. "He was just so happy for the team, raving about his teammates. Typical Leon fashion, no doubt.
"I think all of our jobs got a little tougher with the loss of Leon. And he's a great teammate to boot. He's going to be lost for a while. Hopefully we can get him back in our locker room as fast as we can so he can be around."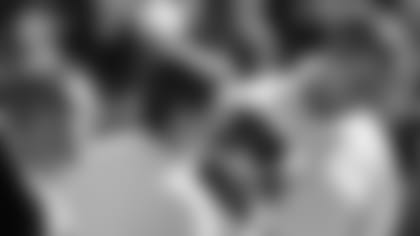 First, though, Washington has to be cleared to return from the sudden season-ending events of Sunday at Oakland.
He suffered what was determined to be a compound fracture of the tibia and fibula, the two bones in his lower right leg, when he was tackled on his only carry of Sunday's 38-0 win over the Raiders. After the play, he was removed from the Oakland Coliseum field for X-rays, splinted, and taken to Alta Bates Hospital in nearby Berkeley, Calif.
At the hospital he underwent two hours of surgery, performed by Drs. David Chang, Scott Taylor and Warren Strudwick, during which a rod was placed in the tibia to stabilize the fracture. The fibula will heal on its own.
Dr. Ken Montgomery, the Jets' head team physician, and assistant athletic trainer Dave Zuffelato, remained with Washington for the surgery. Dr. Montgomery returned to New Jersey today. Washington will remain in California for a few days under the doctors' observation.
Washington could be cleared to return as soon as Wednesday. Whenever he is cleared, he'll fly back east along with Zuffelato aboard Jets owner Woody Johnson's private plane.
"We anticipate a full recovery," a team spokesman said. "Everything is going as well as we could hope at this point."
But the spokesman said "It's too early to tell" when in 2010 that Washington will be able to resume football activity.
But the Jets know two things: Washington won't be returning this season, one week after nose tackle Kris Jenkins suffered a season-ending ACL injury.
"This is kind of going crazy the last two weeks," cornerback Darrelle Revis said on a conference call today. "Jenks is out and now Leon. These are two core, big-time players that we need throughout the season, but both of those guys are out now. We just have to figure out ways to win games and trust and believe the guys that are here and playing on the field."