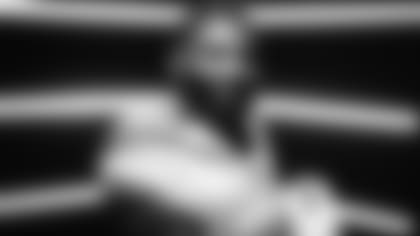 Many Jets players are now in the middle of enjoying this down time on the NFL schedule, yet in the backs of their minds is that little bit of resignation, even dread, about the start of the steamy, sweaty dog days of training camp beginning in the latter part of July.
For Vinny Curry, though, it's pretty much the opposite.
"For anybody out there, training camp is hard: 'Damn, man, it's hot and all that.' It's crazy," Curry said at the end of the Jets' full-squad minicamp earlier this month. "But the biggest thing that I'm going to be working on is not being too eager. Let it come to me. I truly missed the game last year, and I'm not going to be out there trying to force things. It's my 11th year of camp. It's normal. It's like your last name by now.
"But I think I'm really excited about training camp."
Curry is indeed beginning his 11th season of pro ball, and at the age of 33 and after 128 regular-season and playoff games in the first nine years of his career, he could be thinking about giving his bones and muscles permanent rest from the rigors of the game. But again, that's not where Curry's head is at.
"I'm blessed, man. It's been amazing," he told newyorkjets.com's Caroline Hendershot of getting back in uniform for the offseason program after losing all last year to a rare blood disorder and spleen surgery. "When they declared me out for the entire season, that was a bummer. But you know, I've just been, all in all, really enjoying the moments, enjoying the coaches, the guys, the camaraderie. It's been awesome."
He especially has savored working with his defensive line brothers again. In particular, one new Jet has made old man Curry feel young at heart again.
"Jermaine Johnson? I love him, I love him," Curry said of the first-round selection who came to the Jets as an accomplished edge rusher from Florida State. "I said, 'You're giving other rookies that I've known previously in my career a run for their money as far as being one of my favorite rookies.' "
But all his D-line mates are firing him up, as is the whole team he re-signed with in April a year after first coming to the Green & White as an unrestricted free agent. Many Jets players and coaches have talked about how upbeat they are about their unit's chances and their team's prospects heading into the 2022 season. Curry gave that topic a little veteran perspective, acknowledging the vibe but also posting a caveat for the training camp that he can't wait to arrive.
"The energy's crazy. I'm pretty sure you can feel it. There's something brewing here," he said. "And now the guys have just got to come back mentally ready for camp and understand that we can take this thing as far as we can take it."
See some of the best images of the 2022 Jets in uniform at the team's annual multimedia day held at 1 Jets Drive.