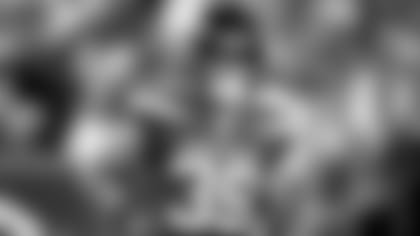 Jets fans who wondered why Australian Rugby League athlete Valentine Holmes was being listed as RB/WR on team rosters may have wondered a little less after one Holmes reception in the Jets' 6-0 win over the Eagles in the teams' preseason finale Thursday night.
"It probably helped that I did that route in training, the exact same kind of play, same route, same side," Holmes told me after the game. "That's what you train for, to try to build your muscle memory. I kind of had a feeling it was coming to me."
Holmes was actually lined up as a split end on the play, with rookie LB T.J. Edwards covering him. Holmes easily beat Edwards to the outside and had enough time to double-clutch the over-the-shoulder throw from Davis Webb when he temporarily lost the ball in the lights and still secure the catch and get both feet in bounds along the left sideline for a 27-yard gain. It equaled the Jets' longest completion of the game.
Green & White fans weren't the only admirers of the play. "How about that catch he had?" Webb said at his nearby locker during the interview of the Jets' rookie. The QB was only half bragging about the throw.
It wasn't Holmes' only play of the night. In his second half of work, he logged 20 offensive plays. His five runs went for an unproductive zero yards, but his five receptions logged 55 yards, the most by any receiver on either team. For the summer, he totaled 39 offensive plays, 11 carries for 9 yards and eight catches for 85 yards.
The first week of August, head coach Adam Gase gave a progress report on the Jets' latest potential Wonder from Down Under.
"He's picking up the offense. That hasn't really been his issue," Gase said. "It's just when everything starts moving super fast, he's trying to get used to that and I think it's starting to work for him. It's slowing down for him and I think it just keeps slowing down. I'm excited to see him get to play in some games and just kind of see how he reacts to all that."
Apparently, he has reacted well. As one of the four members of this year's class in the NFL's International Player Pathway Program, he was eligible for an international player practice squad exemption. And that's what the Jets did Sunday, using their exemption for an 11th practice squad player on Holmes. That dovetails nicely with his affinity for the American brand of football.
"Yeah, it's been awesome," he said of his Jets experience so far. "I'm excited I got to play in all four games and I'm very grateful the Jets gave me that opportunity. I'm happy with how much time I got, whether it was a couple of minutes or 10 minutes or whatever. I'm just very grateful to be here."