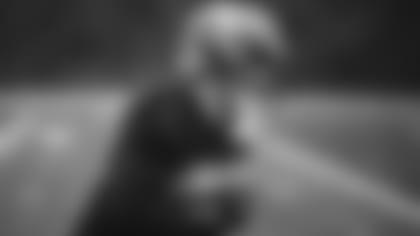 Valentine Holmes, who came to the Jets in April from Australia's National Rugby League as part of the NFL's International Player Pathway Program and has been learning the NFL ropes as the "11th man" on the Jets' practice squad, has been released and is eying a return to the NRL back home in Australia.
Holmes, 24, went through OTAs, minicamps and training camp with the Jets, with an eye toward joining the team as an 11th practice squad member and the possibility of moving to the active roster next season if not sooner.
Holmes (6-1, 200), whom the Jets listed as a RB/WR, saw action in all four preseason games. He wound up with 11 carries for 9 yards, 8 catches for 85 yards with a 27-yard long reception in the preseason finale against Philadelphia, a zero-yard punt return and a 21-yard kickoff return. He played 39 offensive plays and five special teams snaps in the summer games.
"Yeah, it's been awesome," he said of his Jets experience before the start of the regular season. "I'm excited I got to play in all four games and I'm very grateful the Jets gave me that opportunity. I'm happy with how much time I got, whether it was a couple of minutes or 10 minutes or whatever. I'm just very grateful to be here."