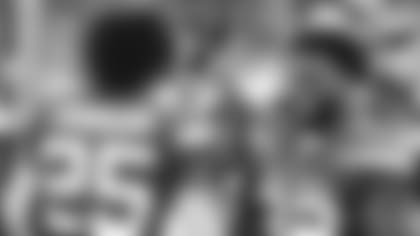 When Ty Johnson exclaims "Dog!" he could be referring to Tevin Coleman, his fellow Jets running back, after TC roared 65 yards on the second kickoff return of his NFL career a little more than a week ago. On the international stage in London, no less.
But more likely, Johnson would be interacting with the canine kind of dogs, his pups, which he reunited with back home in Cumberland, MD, during the bye week.
"First things first was to love up all my dogs. I have a purebred golden retriever and a St. Bernard/husky mix," Johnson told Eric Allen and Leger Douzable back near his other home, the Atlantic Health Jets Training Center, on The Official Jets Podcast this week. "I'm going to bring them back up here hopefully next week and we'll see how it goes. There's nothing like when you come home and you've got someone excited to see you and giving you some love and everything."
Any Johnson dog transport will wait until after the Jets' return to action Sunday at New England. And while the Patriots have had an extended run of success playing against their rivals from the AFC East, they aren't necessarily excited to see the Jets' ground game come into their home this weekend.
That's because Johnson, with 50 rushing yards, and rookie RB Michael Carter, with 59 yards, led the way in the Jets' 152-yard rushing attack at 4.9 yards/carry that made things interesting for a while in the Week 2 home loss to the Pats. That plus Zach Wilson's 210-yard passing game is in the neighborhood of how HC Robert Saleh and OC Mike LaFleur envision this West Coast offense working. And how Johnson sees it as well.
"It's complementary football, at the end of the day," the Jets' third-down back said. "If the running game's going, the passing game's going to be good and if the passing game's going, the running game's going to be good. And I think the backs as a unit, we take responsibility. If it's blocked up, we need to be explosive, and if it's not blocked up, we still need to get positive yards. It always falls on the running game, no matter what team it is."
It also falls on the shoulders of players like Johnson, who has been a relentless, positive force on the field from his days at the U. of Maryland, and even before that, in high school when he sent out multiple emails every day, even during class, to colleges who might be in the market for a self-motivated, highly productive small-high-school back for their program. Maryland answered the call and Johnson went on to amass the fourth career of 4,000 all-purpose yards in Terps history.
"I don't want to be denied. I'm going to be undeniable. That's my mindset," he said. "If you put your mind to it, if you really want something, you can go get it. You can manifest it and speak it into existence and get after it, you know?"
Johnson said he's feeling at home in his third-down role and the numbers support that. He had two rushing third-down conversions at Atlanta, one conversion in each of the three games before that, and his five for the season lead the offense. But he's not getting comfy yet.
"Yeah, I'm glad I have somewhat of a home, but you never know because this is the NFL," he said. "Things change every day, things happen. It's just about never being content, never being too high or too low, just keep plugging away. step by step. You want for the best and you keep moving forward."
And the Jets would like to show that they're learning how not to be denied with a doggone great effort out of the bye at New England on Sunday.
"It's just moving forward, moving forward, improving on offense, defense, special teams, no matter what it is, how major or minor it may be," he said. "It's about moving forward, then going to Foxboro and having a game."