Super Bowl has come and gone, but it left memories that will last a lifetime for many, including two of the youngest spectators in the MetLife Stadium crowd.
Jayden Ebstein, 9, from Voorhees, NJ, was the winner of the Biggest Kid Fan Contest. His 150-word essay was judged by Johnson to best answer the question "Why are you the biggest Jets fan?" He and his father, David, were guests of Johnson's in his stadium suite for the Seattle Seahawks' 43-8 triumph over the Denver Broncos on Sunday.
Johnson also liked the essay submitted by Jenna Delucia, 10, from Trumbull, CT, and invited her and her father, Neil, to come to the game as well.
Jayden goes to Signal Hill School in Camden County, not far from Glenn Foley's old Cherry Hill stomping grounds, and not far from the Eagles' base of operations. But as he said in his essay, he prefers the longer trip up the New Jersey Turnpike to watch the Jets play at MetLife.
"That's what we do in the morning," he said of Jets gameday. "We wake up early in the morning. It's not hard to get up, because we drive to the game. When we get to the stadium, we tailgate and have a lot of food and we throw the football around."
Jayden likes to throw the ball but he also likes to catch it — not surprising, since he says his favorite Jet is WR Jeremy Kerley. "I like that Jeremy's able to run down the field really deep and catch the ball."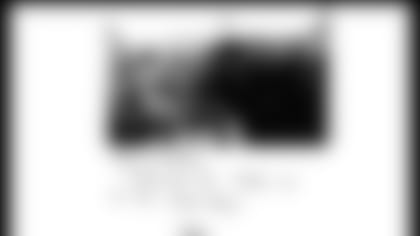 Jayden's a bit of a tailgate foodie, preferring salmon or steak off the grill. He got his fill of great food and got to meet some neat people in Johnson's suite during the game. He told his father that he was excited to meet Jets Ring of Honor running back Curtis Martin and that Katie Couric was very nice to him.
"It was better than when we went to Wrestlemania last year," Jayden said.
Jenna, who attends Frenchtown Elementary School in Trumbull, wrote an essay in which she expressed similar sentiments about coming to Jets games with her dad, Neil, throwing the ball around, and tailgating — a sandwich and Goldfish are more to her liking as a pregame meal.
She also wrote about "how I dressed up for Halloween as 'Skinny Rex Ryan' and I got second place in the costume contest" that was held before the Miami game this past year.
Jenna's favorite Jet? "Geno Smith. He's a good athlete." She's a bit of a budding athlete as well, specializing in dancing since the age of 2 and volleyball. And she may also be an aspiring writer.
"I love to write," she said. "I got the highest grade you could get [on an essay for the Connecticut Mastery Test] and I was the best in the two classes my teacher teaches."
Jenna and Jayden's day could have been just a little better, since both wanted the Broncos to win. But both young writers will have plenty of experiences from this special day to draw on for many an essay in the future.