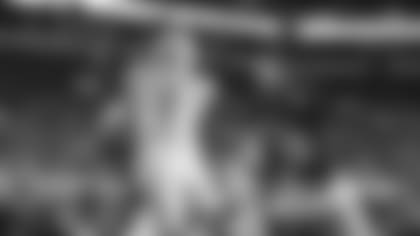 An anticipated sidebar to Sunday's Jets-Dolphins rematch at MetLife Stadium was going to be the Green & White's first clash with first-round rookie QB Tua Tagovailoa as the 'Fins' starter. Is the former Alabama signal-caller everything he's cracked up to be? Is he as super-accurate as billed? How will he rebound after the first down performance of his first four pro starts last week at Denver?
Now all those questions may or may not be put on hold, due to the thumb on Tua's left throwing hand.
Tagovailoa jammed his thumb during Wednesday's practice in South Florida. He's been limited all three practices this week and is listed as questionable for the Jets.
"He got banged up a little bit," Miami Head Coach Brian Flores said. "He's a tough kid. He's going to do everything he can from a treatment standpoint, so we'll see. I don't think this is something that we're too, too worried about."
Still, Tagovailoa, after efficiently posting wins in his first three starts, looked every bit the swimming rookie at Denver in completing 11 of 20 passes for 83 yards, suffering five 3-and-out possessions, getting sacked six times, and being benched for Ryan Fitzpatrick late in the Broncos' 20-13 win.
"He's beaten my [Georgia] 'Dogs a couple times so I know what type of athlete and player he is," LB Jordan Jenkins said of Tagovailoa. "He got in the last series of the first game we played against them. But we've got a game plan for the possible situation if Fitz plays and the possible situation if Tua plays. We're preparing for both those guys."
Which, as Defensive Coordinator Gregg Williams explained, is what he, his staff and the Jets would do anyway.
"We knew that could be a factor," he said of Tagovailoa, who played at Denver with a foot injury. "And really, even if he wasn't on the injury report, if a quarterback goes down in the game, the next guy comes up. We always do that. If it's a different running back, a different wide receiver, a different quarterback, we go through the what-if part of it. We call it a what-if report and we present that to our guys."
The Jets have plenty of video on Fitzpatrick, who was their QB in 2015-16 and played against them for the Bengals, Bills, Titans, Buccaneers and Dolphins. (Fitzpatrick's teams lost six of his first seven games vs. the Green & White but have won five of the last six.)
The Jets defense would no doubt love to face the rookie, especially a rookie who may have throwing thumb and foot issues. Plus their defense, while still giving up too many yards and points, seems to have increased their pressure on the opposing QB, at least on Sunday. Their three sacks and nine hits on Chargers rookie Justin Herbert were both their most since getting three sacks and 11 hits on the 49ers' Jimmy Garoppolo and Nick Mullens combined in Week 2.
Jenkins wanted to see more before he declared his pass rush on the fast track. "I guess the pressure has stepped up," he said, "but there's still stuff we're leaving out there."
But there is one thing the Jets want to take with them as they leave the MetLife turf on Sunday, regardless of the identity of Miami's signal-caller(s), is a victory.
"At the end of the day, it just comes down to being a pro," Jenkins said of the Jets' winless woes. "You can't not show up for work. You get paid to do it, come in with the right attitude and get it done. That's what it ultimately boils down to."