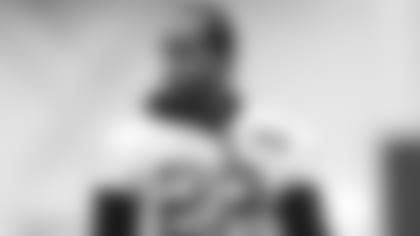 Trumaine Johnson is a cornerback of few words, but the thoughts he offered recently about new defensive coordinator Gregg Williams during the Jets' voluntary minicamp spoke loud and true.
"Gregg's an aggressive coach, for sure," Johnson said. "He's a players' coach. He's one of those coaches, he demands respect, for sure, one of those coaches you like to run through a wall with. So it's going to be nice for us."
Johnson knows what he and the Jets defenders are getting into. Williams was Trumaine's coordinator for three years with the Rams. The middle one of those seasons, 2015, has been his career year — seven interceptions, 17 pass defenses, 71 tackles. And 2016 was the strongest of the three for the Rams defense, which ranked ninth in total yards allowed and 10th in passing yards allowed.
Williams left for the Browns beginning in 2017, and Johnson headed east as the Green & White's big-ticket free agent signing for 2018. He flashed some of his skills in the Jets' secondary, such as when he was coming up with his five takeaways (four INTs, one fumble) and returning one pick to the house at Tennessee.
But last year wasn't completely satisfying for No. 22. He missed five games in October-November with a quadriceps injury.
"I've always been a competitor, so that injury was big for me, missing out in the middle of the season," he said. "Hopefully I can stay healthy this year."
And he acknowledged that new head coach Adam Gase's "clean slate" was good for him after sitting out the season finale at New England due to a coach's decision by Todd Bowles.
"Not playing that last game with my teammates hurt," he said. "Of course, last year was last year and that was my fault, for sure. A clean slate is definitely good for myself."
And for all the Jets, who are eager to turn the corner after three straight losing seasons.
"I couldn't wait to come back here and reunite with the guys," Johnson said, adding of his expectations for '19: "Pro Bowl, of course. And I've always been a team guy, so I'd love to win here."