We've all heard the catchphrases connecting football and adversity. Whatever doesn't kill you makes you stronger, etc., etc.
Trevor Reilly has heard the slogans. He's also lived them to get where he is today, and then some.
"There were a lot of things going on," said the Jets' seventh-round linebacker out of Utah.
It began for Reilly with some physical adversity, specifically, his knee. He tore his ACL during Utes spring football in April 2012.
"It was diagnosed in June," he said during a break in the weekend's rookie minicamp at the Atlantic Health Jets Training Center. "By then it was too late to have surgery, so I played the season on the torn ACL. But I had to do rehab all offseason as if I had surgery."
That was just a warmup act. That fall, he recalled, "my dad was diagnosed with a blockage in his small intestines called a carcinoid tumor, which he had removed," Reilly recalled. "But he got an infection. He went a month in the hospital, almost died. He had 20 surgeries."
Next up was another dire illness, suffered not by him nor his wife, Jessica, but by the younger of their two daughters, Shayn. At seven months of age, she was diagnosed with kidney cancer, for which she underwent the removal of the kidney and chemotherapy. Trevor had to postpone his graduation due to two summer courses he couldn't complete, but that was the least of his concerns.
His father and daughter came back, but he still needed to traverse some more rocky road of his own. After the 2012 season, before Shayn's diagnosis, he needed that knee surgery, which involved the painful stitching of his meniscus and rehab. He made it to the '13 season as team captain, but the Utes went 5-7 without a bowl bid.
Then after that season, as this year's NFL combine approached ...
"I tear my meniscus walking in the sand, training for the combine," he said. "I knew it as soon as I did it. I go to the doctor and sure enough the meniscus is folded over into my knee joint. I have to have [arthroscopic] surgery, I can't run at the combine, and I have to rehab again."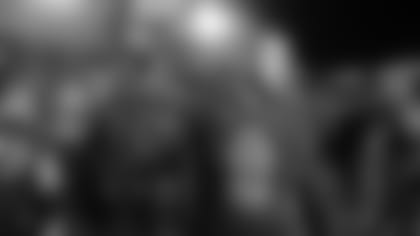 One might think Trevor Reilly was about to throw in the towel, but he was only getting ready to mop off a little more sweat. At 26 years old, he already has a maturity that many drafted players don't come to the pros with. He had already been on a two-year LDS mission to Sweden before starting college, and his faith has helped get him through.
"I used to think football is so important, school is so important," he said. "But when your kids get sick and it's something serious, it's like let's take a step back and see what's important in my life.
"My wife and I and my daughters, we go to church every Sunday. We got support ecclesiastically from our church. And just our faith, what we believe in about adversity, how it makes you a stronger person — we have a good outlook on things."
Finally, the darkness of the last two years began to lift when Reilly turned in a 4.66-second 40 and jumped well at this year's combine. And there are the qualities he displayed through "a lot of downers" last year as a senior — his point-of-attack toughness that produced 100 tackles, including 8.5 sacks and 16 behind-the-line stops, his tenacity that produced four takeaways (three fumble recoveries and an INT).
All of which led him to the Jets as their seventh-round selection. And at this stage of his still-young life, Reilly is sitting on a stool in the Jets locker room, smiling slightly and counting his blessings.
"Absolutely, it's a golden opportunity. This could be my one and only lotto ticket. You have to make the most of something special and this could be it for me," he said.
"Adversity's not fun. You always want to seize the moment, do the best you can. That's kind of what life's all about."