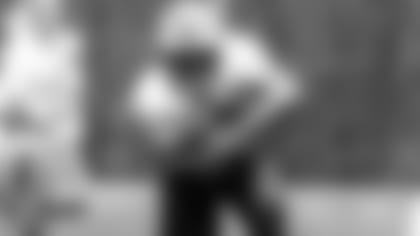 On the first day of their rookie minicamp, the Jets already have one draft choice signed, sealed and delivered. Sixth-round running back/kick returner Trenton Cannon has signed his rookie contract.
"I'm feeling good, just settling on in," said Cannon, who said he signed his deal Thursday night shortly after he checked in for the minicamp. "Right now I'm getting into the playbook, learning the plays."
Cannon (5'10", 185) was the featured back at Division II Virginia State after he transferred from Division II Shepherd. He rushed for 1,000-plus yards in each of his three Trojans seasons, capped by a monster senior campaign in which he ran for 1,638 yards (7.7 yards/rush) to become the school's all-time leading rusher and the Central Intercollegiate Athletic Association Offensive Player of the Year.
For his college career, Cannon played in 38 games (25 starts), rushed for 4,246 yards (7.1 yards/carry) and 46 touchdowns, caught 51 passes for 638 more yards and seven more TDs, and also averaged 33.1 yards/kickoff return with three TD returns the last two seasons.
Asked what he can provide as a returner for the Jets, he replied, "I don't have any idea yet. I'm just going to compete for a spot and work toward becoming a returner."
But he knows what he did as a kickoff returner the last two years for the Trojans with a 33.1-yard average and three touchdowns on 38 returns.
"At this level," Cannon said of punt and kickoff returns, "I think I have the ability to do both."