Curley Johnson, a running back, tight end, kickoff man and the first great punter in the history of the New York Titans and Jets, died this afternoon. He was 80.
Johnson had many highlights in his eight Titans and Jets seasons, most dealing with putting instep to ball and helping the Jets with field position all the way through Super Bowl III on Jan. 12, 1969.
John "Curley" Johnson was born in Anna, TX, attended Woodrow Wilson High School in Dallas, and played his college ball at the University of Houston. He was drafted by the Pittsburgh Steelers in the seventh round (77th overall) of the 1957 NFL Draft, but perhaps appropriate for a Lone Star State native, his first pro game action came with the AFL's Dallas Texans in 1960. He actually scored his first pro points on a two-point pass for the Texans against the Titans in '60.
He signed with the Titans as a free agent on Sept. 20, 1961, and started out wearing uniform No. 20, but he swapped that for his trademark 33 in 1963, when the Titans became the Jets and Weeb Ewbank took the head-coaching reins.
In short order, Johnson set the franchise gross punting record with a 45.3-yard average in 1965 that wasn't broken until Robert Malone averaged 45.8 yards per punt in 2012 and Ryan Quigley topped that with a 45.9 in 2014.
And that same '65 season, Johnson posted a net of 39.7 yards — before the concept of "net average" had been introduced to the game — that wasn't eclipsed until Quigley's 39.9 net in 2014. As a result, Johnson was selected for the AFL All-Star Game after that season.
Johnson's final punt as a Jet came with 15 seconds to play in their ' 16-7 rocking of the Baltimore Colts. He was one of four Titans players who went all the way with the Jets through the 1968 seaosn to notch that iconic Super Bowl triumph in Miami's Orange Bowl.
By then he was recognized as one of the Green & White's top personalities. As LB Ralph Baker once observed, "He was the most spirited leader on the team." Despite all this, Johnson was released the next August and finished his pro career with five games for the Giants.
Ewbank later lamented turning over the talent on his post-Super Bowl teams, even saying about Johnson, "I told Curley once I let him go too soon, and he was 33 years old." That's right, 33.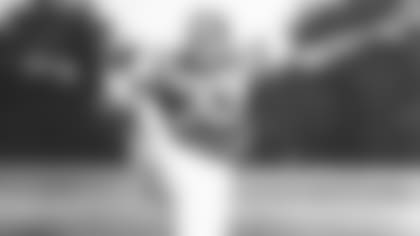 For his 110-game Titans/Jets career, Johnson hit 534 punts for a 42.5-yard average. He also had 41 carries for 166 yards (4.0 yards/carry) and 22 receptions for 196 yards (8.9 yards/catch) and two touchdowns. His first TD came on a 6-yard toss from then-rookie Joe Namath in 1965 and his next came the next season on an 18-yard strike from backup Mike Taliaferro.
After his playing career, Johnson continued to intently follow the Jets, and as Gerald Eskenazi recounted in his book "Gang Green," even as late as 1997 wrote to then-owner Leon Hess about asking about the possibility of doing some scouting for the team. In a key passage in the letter, Johnson told Hess:
"Coach Ewbank once told me you never get football out of your blood. I know now what he meant. I miss being part of the Jets and would love to do my part to help get us back to our Super Bowl days."
Johnson, old No. 33, passed away at his home in Granbury, TX, today at 3:33 p.m., a day after his 61st wedding anniversary with his wife, Janet. The family is making funeral arrangements and we will pass them on when they are available.