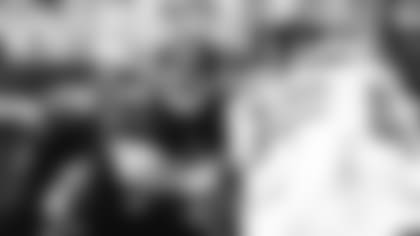 In the eternal battle between indestructible NFL offensive lines and pain, sometimes pain wins and some teams have to retool their lines almost weekly.
Such was the case for the Jets' OL in 2016. Ten different players got starts that year, only one was the same for the opener against Cincinnati and the finale vs. Buffalo, and nine different starting combinations were used for the 16 games.
This year has a similar feel. RG Brian Winters was the only lineman to start all of the first nine games, and eight different players had gotten starts in five combinations.
But with Winters redislocating his shoulder against the Giants and going on IR, make that nine starters and six combos. Head coach Adam Gase was asked if Tom Compton would be starting at Winters' spot and replied, simply and honestly:
"Yeah. We're running out of bodies."
But Gase isn't throwing in the towel on this painful year and neither are his coaches nor QB Sam Darnold. Winters made it through only the first offensive 40 plays Sunday before Compton came on for the final 25 snaps and five series, the first three of which produced the 13 points the Jets needed for their comeback victory.
"Brian is a really good player, a really smart player, and to a lose a guy like that, a player like that, it's a bummer for this team, this offense and really for the whole organization," Darnold said early this week. "But it's next man up. And that's why every single guy in the offensive line room and on the entire roster, everyone prepares like they're starting.
"I think Tom Compton did a really good job preparing throughout the week and it showed in the game. When he got his chance, he got in there and did his job. So everyone just has to have a next-man-up mentality and that's what they've done a really good job of so far this year."
"Yeah, Sam's good," said Compton appreciatively after practice this week. "It seems pretty typical in an NFL season for guys to get hurt. I'm used to being in this role. We've rotated quite a bit and I'm always doing drills with the different guys so you can get comfortable with whoever's out there. We've been working for a while now."
Compton has played in all nine Jets games but with very little exposure on offense — he had only three offensive snaps in all games before the Giants win. But TC's not sweating it for one reason, which is that he came to the Jets as an unrestricted free agent in March with a good trench résumé.
He played in 94 games and started 30 in his first seven pro seasons. His first starts actually came for Washington (which happens to be the Jets' opponent this Sunday) in 2015-16. His most recent were for 9-7 Minnesota last year as he started 14 games at LG — the first seven and the last seven, with Games 8-9 on the inactive list (after getting hurt in Game 7 vs. the Jets).
For what it's worth to antsy Green & White fans, if Jonotthan Harrison remains at center for the injured Ryan Kalil, the Jets could be starting the same five against the Redskins as they did for the preseason win at Atlanta: from left to right, Kelvin Beachum, Alex Lewis, Harrison, Compton and rookie Chuma Edoga.
"Yeah, that was fun," Compton said of the summer game, adding, "I really don't remember much from that. It seems so long ago.
"But it always feels good to go out there and play, man. That's what we're here to do. That's what I've always wanted to do and keep trying to do. I'm definitely grateful for the opportunity."
And the long history of the NFL is replete with stories not just of some offensive lines falling apart due to injuries but of other O-lines rising above the pain and playing like a group that's been going to battle not for days but for years. Compton and the rest of the Jets line has the right attitude for traveling down to FedEx Field, opening up creases for Le'Veon Bell, keeping Darnold protected, and having a successful road trip.
"We've got a great opportunity against Washington," Compton said. "That's all we can ask for."