*Guiding a team in transition, Todd Bowles declared before the 2017 season that he was not afraid of the unknown. A teacher at heart, the Jets' third-year head coach was eager to lead a new class.
**Throughout the 2017 season, Bowles shared his thoughts with Eric Allen before his team's Friday walk through. These are his words and this is his story…
*PROLOGUEWhen I was a player, I hated losing. I would carry it all through the week. I hated it. I didn't have to answer to anybody but me. I hated it and tried to do everything I could that week. I would never forget it and I hated the feeling. Until this day, I don't really care if it's street ball or anything competitive — I hate losing.
I can remember all of the bad plays from my career. I can hardly remember the good ones.
I can sit here and tell you my rookie year when I was on the kickoff team against the Raiders, I was doubled-teamed by Matt Millen and Rob Martin and I barely got across the 45-yard line. I could sit here and tell you when Herschel Walker trucked me over. I tackled him on the way over the top of me, but I tackled him.
I could sit here and tell you I was literally knocked on my ass three times in my career where it was an even head-up shot, which I hate to this day. I could sit here and tell you I was a heck of a kickoff return blocker and we played the Detroit Lions. I had to block this guy named Toby Caston and they told me he was 220 pounds, but he ended up being like 265. I was 205 and he grabbed me by the seat of my pants and threw me out of the way, twice. I can remember that like it was yesterday.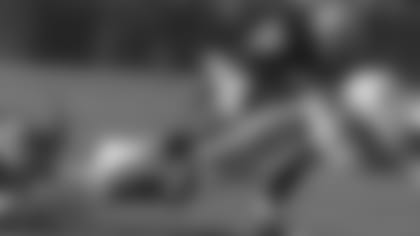 I can tell you when I played PAL or ICC football and I was running for a touchdown and I tripped myself on the three-yard line going in and fell down before the goal line.
I can tell you all of that, but I can't tell you the good times. I can tell you all my bad moments.
The only great moment I remember is when I was playing street ball and it was kind of a passing of the torch as a child when you're playing in the gym against the older guys. I was hot playing basketball and I could not miss a shot. I was on fire. It had to be ninth, tenth or eleventh grade. They were at least two or three years older. We had a young team and we could not miss a shot. Everything I threw up went in and it was just like that game after game after game. That's my best sports moment I could tell you.
The Super Bowl is personal gratification, but something about passing the torch in the neighborhood means a lot.
CHAPTER 1: BABY STEPS AFTER BUFFALO*Following a dramatic roster overhaul, Bowles reiterates throughout the spring and the summer that his goal is to get to the playoffs and the Super Bowl. In a 21-12 season-opening loss at Buffalo, the Jets yield 190 yards on the ground and are outgained 408 to 214.
*There was energy and effort. We didn't play very smart or heady, at times. It was a different guy each time, so you can't say there was one guy that was terrible. They get overexcited trying to make a play where they have to just do their job and not try to make plays that don't belong to them. Guys watched the film and understand what they did wrong, especially gap fits and not jumping out of our gaps. Some guys got antsy and were peeking where they didn't belong and it hurt us. We're going back to basics and getting their eyes trained again. They train them, but when they get up to the game, they got excited for the first game and it can't happen.
The only reason you play this game is for pride. That's what I do it for. The guys do it that way too, but sometimes you have to be streamlined and some people can't play overexcited. Some people have to play within a box. They have to calm down and we have to calm them down, so they can play normal and treat it like practice as opposed to some people can talk and play the game.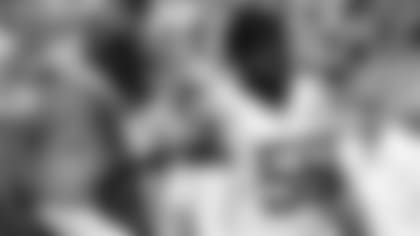 *Despite falling behind the Raiders 14-0 in Week 2, the Jets score the next 10 points and are set to take possession late in the half. But disaster strikes when a punt is muffed deep inside their territory and the Green & White drop a 45-20 decision at Oakland.
*I know we have a lot of moving pieces and some new guys coming in, but they made progress against Oakland and we look to make more progress this week. We just have to keep growing. The team will be fired up for the home opener. I think last week we realized we are a team and there were a lot of positives to come out of that game, more than the score would ever say. It's hard to see when you're not on the inside, but I thought we grew up a little bit that game.
*During the Raiders contest, rookie S Jamal Adams made a highlight-reel tackle as he hurdled a couple of players before taking down Marshawn Lynch by the goal line. A former safety himself, Bowles likes what he sees out of his rookie tandem in Adams, a first-round pick out of LSU, and Marcus Maye, a second-round selection from Florida.
*He plays hard and he plays fast, both him and Marcus. He does it the right way, he's how you build them and how you want them to play. That's who he is. That's what you see, it's what you saw his whole college career and what you see now. I'm just happy we got him. Marcus is an outstanding open-field tackler. Marcus makes everybody right. You don't see the flash plays, but he makes everybody right and he gets people down when no one else does. You let them play and anything you give them from an advice standpoint are small, technical things to help them see things better on the field as far as what to expect. They do this and they can come back and do that. We just make them aware of some things, but play-wise, we just let them play.
CHAPTER 2: THREE IN A ROWThe Jets celebrate their MetLife Stadium debut with a decisive 20-6 victory over the Dolphins. Demario Davis has a dominant day as the Jets shut down the 'Fins run game and QB Josh McCown and WR Robby Anderson find smooth sailing through the air.
They're growing up. They're learning each other and how to eliminate mistakes for each other and that's the biggest thing. When they start seeing it themselves, you start to see progress. As a coach, you can practice it or say it all you want, but they have to catch on and start seeing it. They're starting to rely on each other now and I'm learning that about them.
Hopefully it'll continue. It'll tell a lot because there's always the pressure of success and failure. Believe me, we're not successful — we won one game. A game can be positive and negative. If you get big-headed and tend to ease up your work ethic, it can go against you. But if you do it the right way, which they have been, and just try to build from it, I expect to see much of the same that happened against Miami.
Everyone says you get old at 30, according to the public opinion, but Josh has been everything I thought he was. He was like that when I was with Miami for a stint and he's like that now. He's smarter, he's mature, he's sliding and not trying to dive head first like Pete Rose. The biggest jump he's made is to not try to get the extra yard when it's not there. He's playing smart football.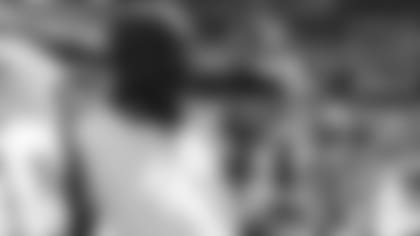 *Against one of the league's top defenses, the Jets run for a stunning 256 yards in a 23-30 overtime victory over the Jaguars. Despite relinquishing a 10-point lead in the fourth quarter, Chandler Catanzaro boots the Jets to 2-2 with a 41-yard field goal with 28 seconds remaining in overtime.
*We're a .500 team, we're 2-2. I wouldn't call that tasting success. We have a lot to build upon and a lot of mistakes to correct. The effort was there. They're playing together and they're playing hard. It's no different than the first two weeks of the season. It's really cutting down on mistakes. Offensively, we have more continuity. In the offensive line, there were less blown assignments. Defensively, the run gap fits are sounder and the ball isn't going over our heads.
Leadership is coming from a lot of areas. It's coming from the older guys and the younger guys. Whether it's Jamal, Marcus or Leonard or Josh, Demario or Winters, it's coming from a lot of different places and that's a good thing because they're all growing together. They all have a voice and they're all talking, so they're all sharing in that leadership role.
We have to continue to challenge ourselves to get better. We're nowhere near where we can be and we're just scratching the surface right now.
*After a less than aesthetic 17-14 triumph in Cleveland, the Jets are 3-2. Acquired nine days before the season opener, Jermaine Kearse continues to impress and his 24-yard scoring reception in the third quarter is the game winner.
*I knew Jermaine was good because we played against each other when I was in Arizona and he was in Seattle. But coming in and being the professional he is and the scheme fits him in making him more of a feature, he's really taken to that. He's blossomed. We take jabs at each other all the time. I actually love the guy, we've gotten pretty close over the past few weeks. Just getting to know him, making him feel at home and him just being himself, asking questions. He's very observant. He'll take shots at me and I'll take shots at him, but we see eye to eye very well.
I would have signed up for 5-0. That's what you sign up for.  3-2 is one step above .500. Again, everyone is impressed on the outside, but everyone on the inside expected to be better.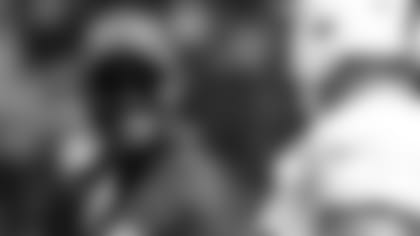 CHAPTER 3: RED HOT OVER FOURTH QUARTER BLUES*The Jets take a 14-0 lead over the Patriots in Week 6, but they drop a competitive affair which includes an apparent Austin Seferian-Jenkins touchdown taken off the board in the fourth quarter following a replay review. Then the following Sunday, the Jets fall back under .500 as a 14-point fourth-quarter advantage evaporates in the Miami humidity. Cody Parkey kicks a 39-yard field goal with 22 seconds remaining and the Green & White leave South Florida with a bitter 31-28 loss.
*I'm hot because we lost and usually you don't let the game slip away like that. They're hot, too. You try to preach it and they understand it, but it's a lesson going forward that you can't let these types of things happen. I know they happen every blue moon, but we have to make sure it's a blue moon and not every week. You're always hot because you lost the game.
It's the 24-hour rule. Sunday, you address it because you know what happened. Monday, you have to find a way to move on while still holding them accountable. Whether you address them loud or soft, you still address them. I'm pretty loud most of the time. Then Monday you put it into perspective and you move on.
CHAPTER 4: TIME TO DANCE*In a driving rainstorm, the Falcons slip by the Jets in the fourth quarter and the Green & White reach the midway point with a 3-5 record. But New York's AFC representative rebounds with its most complete effort of the season, burying the Bills, 34-21, in front of a national-TV audience. The defense racks up seven sacks of Tyrod Taylor and bottles up LeSean McCoy while the Jets run for 194 yards and McCown plays mistake-free ball.
*They came together well. They're still young and learning some things, but they're learning how to win. Hopefully, those three losses for us is a lesson in what we need to do going forward. We proved it against Buffalo. We just have to keep moving forward. Losses are only something if you learn from them and it took us three weeks to learn from it. We don't want to go backwards. The defense is playing a lot faster and trusting in each other. Coach Rodgers does a great job of moving the safeties around and not letting them be statues. They can bump and cover, they can blitz, and they can do a whole bunch of things in the box and a whole bunch of things deep. It allows two, three and sometimes four of them out there at the same time, which gives us a lot of options.
The unsung guys that are playing well are probably McLendon, Tomlinson and Eli, but everybody has kind of played a part. Darron Lee has been playing well and Claiborne doesn't get much notice, but he's been playing well.
CHAPTER 5: IT'S COMING*Instead of heading into the bye with a 5-5 mark, the Jets drop a painful 15-10 contest to the Buccaneers in Tampa. Before hosting the 7-3 Panthers, a reflective Bowles dives into the state of his team.
The way the Panthers approach it, the way they play complementary football and the guys they have and the way they understand the game is pretty good. They understand the game as a whole pretty well. *They've been together awhile, so that's a given. Then you have new guys coming like we have, it'll take a little bit. But meanwhile, they just have to understand the game and build towards working together themselves. Every team builds their own different type of cohesion and we just have to build ours. If we had 10 or 12 guys that had been here three to four years, then you'd see it. But you don't see it right now because of the turnover we had.
Oh, it's definitely coming. I know we're tough. I know we're going to compete and be in any ballgame. We're deficient in a few areas.  I understand that, but we have to be perfect most of the time. If we're clicking on all cylinders, we'll play a great ballgame. If we're not, then it'll be a tough ballgame. If we're not clicking at all, then obviously we'll get blown out regardless of who we play. But for the most part, we're clicking. Some is experience and some is playing smarter. It's a combination of both, but I know we'll be in every game every week. We just have to learn to make the plays in situational football when they arise in certain situations.
CHAPTER 6: FILM DOESN'T LIE*Following a close loss to the Panthers at home, the Jets get their final win of the season as the offense amasses 488 total yards in a thrilling 38-31 victory over the Chiefs. And with a road date against Denver next, Bowles is not fooled by the Broncos' eight-game losing streak.
*We see it on film, you don't have to address it. They're probably the most talented team we'll face this year. Talent-wise, without a doubt. Probably not at every position. They don't have Brady, but you look at their wide receivers, their outside linebackers and their secondary. We always talk about road wins. Home wins are easy. You have to bring your own energy on the road and play for each other. You can't play outside the stands. They have to play for each other and it has to be a focus of all 53 guys. It has to be the energy of all 53 guys. That's how you get wins on the road. It doesn't matter where you play. The field is the same and the people are the same. You have to focus in and bring your own energy.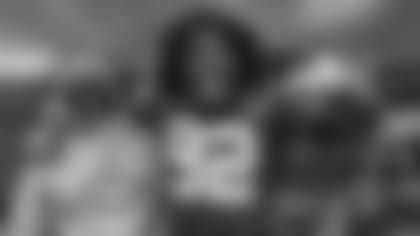 CHAPTER 7: CHANGE AT QUARTERBACK*The Jets taste defeat in Denver and they lose Team MVP Josh McCown in the process. McCown breaks his left hand in the second half of a 23-0 shutout and is subsequently placed on injured reserve. After appearing in six games in 2016, Bryce Petty will make his fifth career start in New Orleans.
*We have a resilient group. These guys are tough. They're going down to win the ballgame. Bryce is a good deep-ball passer, but he has to take what they give him. He has to manage the game. They may take away some of the things that require his strengths. He just has to play the game the right way. That's all he has to do. He doesn't have to do anything great — just play the right way and play what he sees and he'll be fine. 
The Saints are in and out of the huddle. They're on the ball, so you better have calls ready and be on the ball. Multiple substitutions, multiple sets to keep you off balance. Down the field, bootlegs, waggles, running the ball, screens. It's a good mix and if they catch you sleeping, it'll cost you.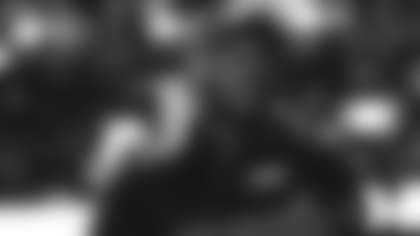 CHAPTER 8: THE COACHING FRATERNITY*It's a small world. After an eight-year playing career, Bowles will enter his 19th pro coaching season this spring. Down the stretch, he faces off against a former mentor in Andy Reid and a peer in Anthony Lynn. Bowles treasures the relationships the game has given to him and he's also very expansive in his praise for his 2017 staff.
*I trained Anthony's son, D'Anton, some when he was in high school. He was a DB who is now on the Chargers staff. So, I know him very well and we just always kept in touch over the years. We would go out in the summer and we kept up with each other. Anthony and I have a very strong bond. I think he's done a great job. He's always been an outstanding coach. I'm glad he got his opportunity. To move a franchise and be a rookie head coach is tough, but I think he's recovered well and done a good job.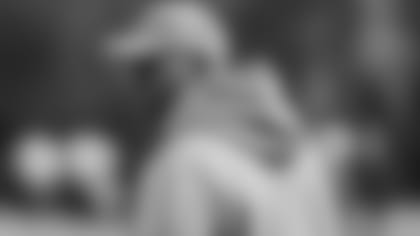 Andy will text me every now and then, letting me know he's thinking about me and I appreciate that. I should do it more, but I'm the younger brother so to speak. I should do it a lot more, but it's always great to hear from him.
Me and Parcells have a lifelong bond. We're good. It's not an every week thing, it's every two or three. He always has insight or he'll say good luck or congrats, keep moving, good game or something like that, whatever the case may be. We'll talk more after the season than we do in the season.
Any time you come somewhere because of your pedigree, people always think it's you. But it's actually Kacy and the defensive coaches underneath him and all of our coaches. I'm happy those guys are getting a chance to shine and do their thing. It just makes me proud to know. They're outstanding coaches. A lot of them in the league, but these guys are outstanding coaches. I love coming to work every day with these guys.
CHAPTER 9: AN END AND A BEGINNING*While the Jets took noticeable steps, their season ends in New England. Before a frigid Sunday in Foxboro, Bowles talks about 60 more minutes and what lies ahead. Just hours before his extension is announced, it is truly business as usual.
*I feel like they're growing. I feel like they're growing together even more importantly and they're learning how to win and figure each other out and taking small steps to win. Obviously, the offseason program will be very important. But if we can close out this last game the right way and build that going forward into next season, add a few pieces here and there, we'll be okay. They're all special every year. It's never going to be the same every year with the salary cap and injuries and free agency and the draft. We add 15-20 new guys every year almost. You coach the guys up that you get and you're ready to teach them right away, but I love everybody that was in that locker room this year. Minus the wins, it was one of the most enjoyable group of guys that I've ever coached.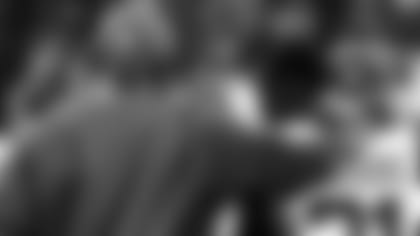 CHAPTER 10: FINAL MESSAGEOn Jan. 1, Bowles meets with his players in the auditorium at the club's Atlantic Health Training Center.* **He delivers one final point in the classroom before stepping away for a self scout.
*I just wanted everyone to make sure we have no excuses for our 5-11 record. When they go away in the offseason, we have to understand what we have to do to get better as a team regardless of who gets hurt, who gets injured, who gets suspended or anything like that.  Our job is to win.
We have a good nucleus. We can be as good as we want to be, but we have to make more plays and we have to put more in the fourth quarter somehow to pull those games out. I think every year a team's chemistry has to be reborn again whether you have the same guys or not because they're gone away from each other for a while and you have to rebuild that trust and you have to rebuild that camaraderie.  You have to rebuild the team's personality so to speak. It's almost like you want to deliver the same message, but there are different ways to go about it.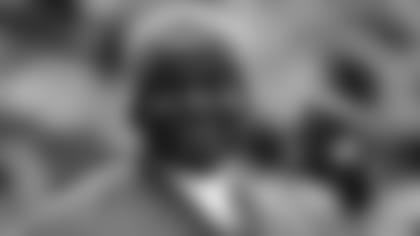 I'm still growing. Obviously, I think the first year — even though it didn't look like it — I was more amped up and hyped up. The second year, you learn how to deal with a lot of things and personalities. And the third year, adversity and keeping positive with the younger guys and teaching and growing that way. It's really all three altogether, so this fourth year I have to step away from the game for a while and sit back and criticize myself to no end. I'll put the pieces together and figure out how we can get better and how I can get better.
Teaching is still the best part of this job. Just seeing the guys get better, understanding X's and O's and putting them in position to make plays with the other coaches. The camaraderie there, us in the room designing game plans and the laughter and the chemistry, between that and then relaying that to the guys and then watching them grow, that's probably the best part of it.