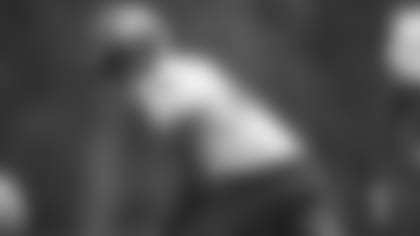 After going undrafted, former Ole Miss TE Kenny Yeboah had multiple suitors as his focus quickly shifted to free agency. He took a number of calls before determining the "perfect fit" was with the Jets.
"I felt like the Jets would be a great opportunity," Yeboah said during the team's rookie minicamp. "Everything is new, it's a new culture. They're starting to make a new brand for the Jets, so I just want to be a part of that honestly. It was kind of like the same thing last year when I was at Ole Miss."
Yeboah attended Temple from 2016-19, accumulating 47 catches for 538 yards with 6 TDs in four years with the Owls. He also earned his bachelor's degree in advertising at Temple before taking his talents to Oxford, MS for one final year of college football. Appearing in just eight games last season, Yeboah was a big-play threat and finished second on the Rebels in receptions (27) and receiving yards (524). In addition to averaging 19.4 yards a catch, Yeboah had 6 receiving TDs.
"At Temple pretty much I was more of a blocker and didn't catch many passes as much as this past year at Ole Miss," Yeboah said. "It was exciting to be able to showcase my abilities as a pass-catcher at Ole Miss."
Yeboah, who starred at Parkland HS in Allentown, PA, was a wideout at Temple before Matt Rhule suggested he give tight end a shot. Rhule left for Baylor after Yeboah's freshman year and the latter would also play under both Geoff Collins and Rod Carey. Five of Yeboah's 19 catches in 2019 went for touchdowns and he might have transferred to Baylor had Rhule not departed for the NFL and the Carolina Panthers. Instead, Yeboah chose to head south to play under head coach Lane Kiffin and offensive coordinator Jeff Lebby.
"At Temple, I played for three different head coaches there so I played in a lot of different systems," Yeboah said. "And then I got a chance to play for Coach Kiffin, whose offense is real potent and go down the field and it was fast. It was exciting to be able to play in a bunch of different systems and it will help me at the next level."
Yeboah excelled under Kiffin, an innovator who has his offense play at a breakneck speed. And he took off despite entering a new environment during a pandemic.
"I was there until March and then COVID hit and I went back home," Yeboah said. "So even when I was back home, just working on my craft and getting faster out of breaks, working on speed, working on my hands, working on my blocking. So that was a big key to everything, taking everything day-by-day and trying to get better every day and not thinking too far ahead."
One of six tight ends on the roster, Yeboah (6-3, 250) will continue to work on his craft alongside his former Ole Miss teammate, WR Elijah Moore. SEC opponents could not slow Moore down last season as he finished with 86 receptions for 1,193 yards with 8 TDS.
"He's going to be everything this city wants and that's on the field and off the field," Yeboah said of Moore, the No. 34 overall selection in the draft. "He's such a great person and the thing that I admire most about him is that he gives all his thanks to God and that's real big for me. He's one of the best players I've ever been around, he's extremely talented. There is some stuff that I learned from him to this day and I'm just blessed to be here and to be able to be around him. I know he's going to make the team better, I know he's going to make the DBs better by how well he is at running routes and things like that. I know he's going to help everybody and just be a great teammate, so I'm just excited to be here with him. I know this is going to be fun, I can't wait. I'm so excited."
Things can change in a hurry as evidenced from Yeboah's disappointment over not being drafted to his elation following signing with an NFL team. No matter how Yeboah got to the Jets, he plans on making the most of his chance.
"I was looking forward to getting drafted and it didn't happen, but I still got the opportunity and I'm grateful and thankful to be here," he said.
See the Top Images from the Practice Field During Rookie Minicamp