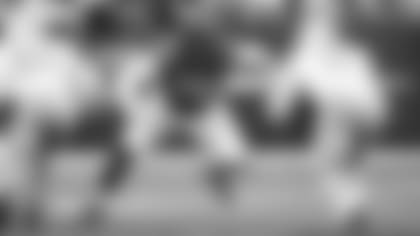 Throughout the season, NewYorkJets.com reporters Eric Allen, Ethan Greenberg and Randy Lange will each give their predictions to a series of questions regarding this year's Jets.
Today's question: Through 13 games, which Jets player has surprised you the most?
EA: George Fant. When LT Mekhi Becton went down in Week 1 and Zach Wilson was battered for 6 sacks and hit 10 times, I can't imagine many people would have predicted Pro Football Focus' No. 12-ranked offensive line heading into Week 15 would be the New York Jets. Fant, protecting the blind side of Wilson and three other QBs, has allowed one sack this season. After starting a career-high 14 games in 2020, Fant was the Jets' opening-day starter at RT. Then when Becton went down, he shifted to LT as Morgan Moses, whom he competed with during training camp for the job opposite Becton, assumed the controls at RT. Fant (6-5, 322) always possessed impressive athleticism, but he's flourished with opportunity. Leger Douzable, my partner on "The Official Jets Podcast," suggested this week that Fant would be the Jets Offensive MVP if there was such an award. Fant, a former basketball standout at Western Kentucky who averaged 13.8 points and 8.4 rebounds during the 2014-15 campaign, has great length, good feet and is known for his pass protection. But the Jets have had a lot of success running to the left with him flanked by rookie LG Alijah Vera-Tucker. Back in June, Big George said this was going to be a jump year for him in the outside-zone scheme. It's been a slam dunk.
EG: I'm going with LB Quincy Williams. Waiver claims come and go throughout the NFL, but Williams has stuck with the Jets. He came to the team with a great story, being the older brother of DT Quinnen Williams, but he's quickly became a mainstay for DC Jeff Ulbrich's defense with his speed and big hits. Ulrbich loves his potential and when Jarrad Davis hurt his ankle against the Packers in the preseason, there was a question and a big opportunity for whomever lined up next to C.J. Mosley. Insert Williams, who joined the team on Sept. 1. He now ranks second behind Mosley with 79 tackles to go with a team-leading 9 tackles for loss. He also has 2 sacks, 3 QB hits, 4 pass defenses and is tied with S Ashtyn Davis for the team lead with 3 forced fumbles. While the Jets' record is not what the team wants it to be, there have been bright spots such as the team's rookie class, but Williams should be included in that list, too. I'm excited to see how much more Williams can develop over the remainder of the season.
RL: My choice is RB Michael Carter. We knew much about Zach Wilson and Alijah Vera-Tucker in Round 1 and had high hopes for second-rounder Elijah Moore, which were being rewarded before his injury. Carter in the fourth round? HC Robert Saleh and OC Mike LaFleur were always optimistic, but who really knew? Yet Carter was the starter by Game 3. By Game 6, his numbers were trending up, from 46 scrimmage yards/game and 4.1 yards/touch in the first 5 games to 102 yards/game (!) and 5.9 yards/touch in the next 5. Also telling is the Jets' offensive production this season:
Table inside Article

| Span | MC GP/S | Jets Y/G | Jets Y/T | Jets TD/G |
| --- | --- | --- | --- | --- |
| Games 1-5 | 5/2 | 267.0 | 4.6 | 1.4 |
| Games 6-10 | 5/4 | 408.4 | 6.0 | 2.8 |
| Games 11-13 | 0/0 | 267.7 | 4.4 | 1.7 |
These team figures are, of course, also influenced by QB play, other injuries and opponent. But I'm happy to see the surprising MC practicing this week and excited should he be cleared to jam again at Hard Rock against the Dolphins on Sunday.