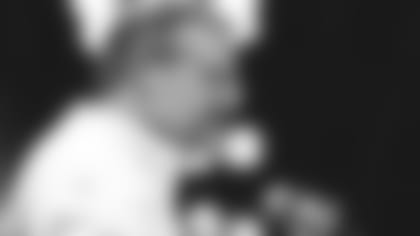 The NFL Scouting Combine is scheduled to take place from Feb. 26-March 4. Here are three things to watch for.
HC Adam Gase and GM Mike Maccagnan Address Media
Jets head coach Adam Gase and general manager Mike Maccagnan will take the podium Wednesday at 2:15 and 2:30 p.m. EST, respectively. You can watch on newyorkjets.com, Facebook, Twitter, YouTube and the Official Jets App presented by M&T Bank. Jets 360 will also be going live from Indianapolis both Wednesday and Thursday at 1 p.m. and you can watch on the same properties for the latest news from Indianapolis.
Year of the Edge Rusher
The Combine is where rankings begin to shift while marking the beginning of risers and fallers between now and the draft. With a talented edge group there are a number of rankings to sort out before April 25.
The NFL scouting world hasn't seen Nick Bosa since October when he announced he would not return to Ohio State after suffering a core injury. Instead, Bosa, whose older brother, Joey, was the No. 3 overall pick in 2016, rehabbed and trained. The 6'4", 263-pounder is widely regarded as this year's top prospect despite playing in three games this past season.
After Bosa, Kentucky's Josh Allen is regarded as another potential top-five selection. The 6'5", 260-pounder finished second in the country with 17 sacks in 2018. But after Allen, the rankings are not unanimous among pundits with the likes of Clemson's Clelin Ferrel, Michigan's Rashan Gary, Mississippi State's Montez Sweat, Florida's Jachai Polite and others. That could change after this week.
QB Carousel
There are lots of questions surrounding this year's quarterback crop, particularly around 2018 Heisman Trophy winner Kyler Murray. In short, no pun intended, Murray is an electric undersized player. Will he weigh in? If so, what will his height-weight be? Murray has a chance to become the first player to be selected in the first round of both the NFL and MLB draft and the first QB under 6'0" to be selected in the first round of the NFL Draft.
Outside of Murray, how will the rest of the crop perform? Ohio State's Dwayne Haskins, another top signal caller, completed 70% of his passes in his lone year as a starter, throwing for 4,831 yards, 50 touchdowns and eight interceptions in a 13-1 season. While Haskins doesn't have as much experience as some of his peers, just remember that Mitchell Trubisky was the No. 2 overall pick after starting 13 games for UNC.
Missouri's Drew Lock, Duke's Daniel Jones and West Virginia's Will Grier could improve their stock with a good week in America's Heartland. Like clockwork, there are always a few prospects that blow the doors off the Combine and shoot up draft boards. As it pertains to under center, Chiefs quarterback Patrick Mahomes began his draft rise at Lucas Oil Stadium and eventually was drafted No. 10 overall in 2016.
Regardless of the current narrative of the quarterbacks, position value holds weight as a signal caller has been selected in the top five in 17 of the last 18 drafts.