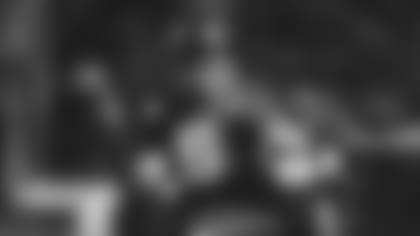 Joe Flacco has become a social media superstar, a role that of course is measured in hours, sometimes days, rarely seasons. But the video of the Jets QB returning to the visitors' locker room at FirstEnergy Stadium on Sunday after the Jets' 31-30 victory and bouncing up and down like a kid among his much younger teammates cleared 900K views on its way to the million mark.
"It's a shame that everything is open these days," Flacco said three days later with only a slight hint of sheepishness over his happy dance. "Not that it's a bad thing, it's all good, it's all fun, I'm glad people kind of get to see all that. But when we were doing that, I have no idea that's going to get out there on social media. If I did, I wouldn't have done it."
Nevertheless, why not? The rarity of a 13-point comeback after the two-minute warning, all the plays that had to be made against all odds to get to that one-point lead at 0:00, well, as "Joe Cool" said:
"We've won some games there that were tough to come by, but that one ranks up there pretty high in terms of excitement and just because of the way we were feeling a couple of minutes before that."
And while Flacco would never admit it, the game and in fact the first two games of this season gave a shot of Rockstar Energy to the 15th-year veteran's current status as the backup who stepped up and put up a game to marvel at for at least the rest of this week.
In the realm of personal statistics, Flacco now has 309- and 307-yard passing games. One more 300-yarder at home on Sunday against Cincinnati would make him the only other Jets QB besides Ken O'Brien in 1985 to string three 300-yard performances in a row. And since O'Brien's trifecta came in November that season, Flacco would become the first Jet to roll three straight 300 games and would join the 15 others to open a season that way since 1970.
And let's not forget, at 37 years and 252 days on Sunday, he would be the oldest to accomplish it.
Naturally, Flacco was in situations that enabled him to put the ball up up some passing yards — in the two games combined he put the ball up 103 times and completed 63 of them.
And Cincinnati will have something to say about whether Flacco enters this small but exclusive side room in the pantheon of pro quarterbacks.
"They're the AFC champions," Flacco said of the 0-2 Bengals. "And I think when you look at those games, they could be sitting here going into Week 3 looking a lot different. They're a good team and we've got a really big challenge ahead of us and we're excited."
Eventually, though, the questions turned to the fleeting quality of fame and the rapidly changing directions of social media. Last week after a frustrating opening-day loss to the Ravens at home, many fans and reporters were suggesting maybe Flacco should be replaced, not by starter Zach Wilson, who's still rehabbing his right knee, but by third QB Mike White.
This week all is forgiven and the questions now are about how he'll feel if, as head coach Robert Saleh has said, the pigskin goes back in Wilson's hands possibly for Game 4 at Pittsburgh. In other words, the Bengals could be Flacco's last starting assignment in a while.
Flacco politely declined to tiptoe into that social media minefield. In short, it's not what he's about.
"I'm really excited that we won last week and I was able to be a part of that," he said. "As I think I've said from the beginning, hopefully I can do the same thing next week. I'm glad I had the last two weeks and this upcoming week to put our team in position to win,
"When you make that decision to commit to a football team, to make a roster, you're there to do what you're there to do. That's all of us. If we can keep the focus on what we can control, that's when everything comes together and things take care of themselves. I'm very thankful for the opportunity to set us up for later in the season, and I'm very happy to do it."
See the top photos from Wednesday's practice leading up to the Bengals game.