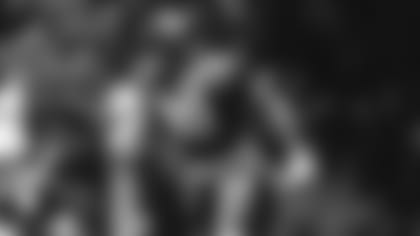 Energizer could not have expected, back in 1988, that the cool, pink bunny the battery maker just introduced as its "mascot" would become not only a commercial icon but a metaphor for go-get-'em performers in every sport and endeavor.
The latest to be christened "the Energizer Bunny": Jets rookie safety Ashtyn Davis by head coach Adam Gase.
"I think Ashtyn is doing exactly what we hoped he would do when we drafted him," Gase said after Wednesday's rainy training camp practice at the Atlantic Health Training Center. "He's able to play multiple spots. You can tell he's super sharp and he makes a ton of plays. He's like the Energizer Bunny out there, man. He never stops."
No doubt Davis heard the nickname in college when he successfully walked onto Cal's track team and then its football team as a freshman. And who would expect anything less from an athlete who's already partnering with another top brand name in Gillette and so tweeted out back in April: "What you see on the field is the result of the hard work put in off the field to be the best I can be."
These days, with his first NFL game of any kind rapidly approaching on Sept. 13 at Buffalo, Davis seems ready to apply his laid-back yet fast-forward approach to the field at recently renamed Bills Stadium.
"I'm just learning what I can on defense and trying to get on the field and help any way I can," he told reporters after practice. "And they've got me doing all kinds of special teams. I'm just trying to pick up any information I can and make myself useful."
The past few practices, as Marcus Maye tends to calf tightness, Davis has even been logging reps this week with the first defense. Tuesday was a big practice for the third-round rookie as he intercepted Sam Darnold during 7-on-7's and generally ranged all over the secondary.
"Definitely, they're really valuable reps. I'm learning what I can from Marcus, whether he's practicing or not. Bradley [McDougald], too, and Matthias [Farley] and B-Jack [Bennett Jackson]," Davis said. "I'm getting more and more comfortable with every rep. I definitely feel comfortable playing in the spot they've got me playing in."
Presumably the only member of the Jets uncomfortable at seeing Davis work with the ones is special teams coordinator Brant Boyer, who'd like to have him full-time on his units. However it works out for the Bills and beyond, it looks as if Davis will join first-round T Mekhi Becton and second-round WR Denzel Mims as draft choices who will see a good amount of action this season.
And Gase said in no case will his rookies have a chance to dip their toes into the NFL water.
"Once you go out on Week 1 in the NFL, nobody really cares," the coach said. "You're out here to do one thing and that's to go win. It doesn't matter if you're a rookie, 10th-year player, 15th-year player. Nobody cares. It's all about what are you going to do to contribute. And we're going to try to find the 11 guys that can go out there and contribute on each side of the ball, each phase, and expectations are always going to be high."
Sounds as if that's exactly how Davis, a.k.a. the new E.B., likes it.
"Coming in, I just wanted to make an immediate impact," he said. "Whether that be special teams, defense, whatever role they're asking me to play, I just wanted to come in and make a contribution and help win games."