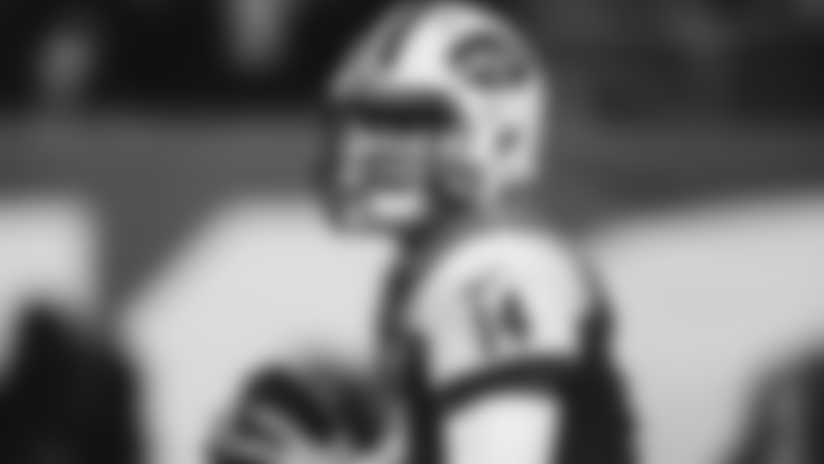 "That's the reason for me playing a little better these past couple games."
Since returning to the lineup in Week 14 from a strained right foot he suffered Nov. 4th, Jets quarterback Sam Darnold's play has improved and the rookie points to his 39-year-old backup as the reason for the transformation.
In his first nine games, Darnold completed 55% of his passes for 1,934 yards with 11 touchdowns and 14 interceptions. The last two weeks, the rookie signal caller has thrown for 423 yards, three touchdowns and one interception while completing 65% of his passes.
"I really do just think it was just watching Josh (McCown)," Darnold told reporters via conference call Monday. "Just the way he went about studying the plays that're in the game plan. It's literally everything – walk through, practice, how he treated everything. I think it was just awesome to be able to learn and watch him. That's the reason for me playing a little bit better these last couple games."
Darnold had one of his best performances Saturday against the Texans as he finished with a quarterback rating of at least 100 for the third time this season. He was comfortable, decisive, used his feet and often connected on off-script plays. The USC product nearly led the Green & White to victory for the second consecutive week, passing for 253 yards and two touchdowns while completing 24-of-38 passes (63%).
"I thought I played well. I thought our whole offense played well," Darnold said. "There are some plays we would like to have back, but other than that I thought we fought really hard. It's just those type of games you just hope you can win, but at the same time there's stuff that we can always learn from. Overall as a whole offense, despite the outcome, I thought we took a step in the right direction." 
The 21-year-old enjoyed competing against Texans quarterback Deshaun Watson and the rookie received praise from both teammates and opponents after the game. As the Southern California native prepares to compete against fellow Californian and future Hall of Fame quarterback Aaron Rodgers, Darnold is aiming to improve his decision-making. 
"Just on a couple plays I feel like I was indecisive," he said. "I think I've been seeing that all year. Just continue to make clean decisions and when a guy is open, just to get it to him. Also on the quicker throws, be ready to throw them. I feel like sometimes my feet were ready to throw a deeper route whereas maybe I could've been ready to throw a little bit earlier. So, just continuing to clean up my feet and continuing to clean up my rhythm in terms of when I need to throw the ball and get it out of my hands."
Top Images from Saturday Evening's Contest Against the Texans