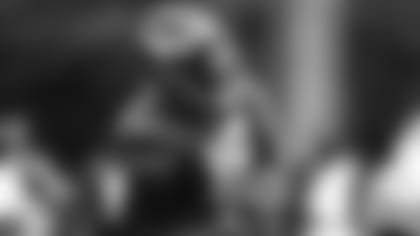 For a while, it seemed Sam Darnold and the Jets would be specializing this season in "22" offenses — two backs, two tight ends and maybe one wide receiver — what with the conga line of wideout injuries suffered this training camp.
For now, at least, it appears the Jets' cautious approach, especially regarding veteran Breshad Perriman's knee and rookie Denzel Mims' hamstring, was the right way to go. They're back on the practice field, feeling good and looking sharp this week, just in time for Sunday's season opener at Buffalo.
"It was pretty frustrating," Perriman said Thursday after sitting out eight practices. "I always want to be out there with my teammates, getting better, working on my craft. But I look at it that I'm grateful and it's a blessing that it was nothing serious and I'm glad to be out there right now."
Perriman added that his knee is "100 percent" and that even during his time out he continued to work with Sam Darnold "the whole time, so we didn't miss a beat at all."
Darnold has just been excited to mix his two big-play makers into the offense this week. On Wednesday the quarterback said, "It was great just to throw some routes with them and get them in the huddle. It was awesome just to get those guys back out there and have them get in a little bit of a rhythm."
There was no word of a Thursday setback for Mims although he was listed with "hamstrings," plural, and was limited at practice.
Fashioning some part of a game plan around the likes of WR Jamison Crowder, TEs Chris Herndon and Ryan Griffin, and RBs Le'Veon Bell and Frank Gore doesn't sound like a bad changeup. But every NFL offense needs explosion and Perriman and Mims can provide it.
Perriman, beginning his fifth NFL season with his fourth team, was particularly impressive in 2019 as he had the best season numbers of his career with Tampa Bay, capped by one of the best closing kicks by any wideout in the league (26 catches, 550 yards, 21.2 yards/catch, 5 TDs over the last six games).
"His skillset fits in well with what we do and we feel he can do multiple things for us," head coach Adam Gase said in March after the 6-1, 215-pounder was signed following Robby Anderson's free agency departure. "I think he can create explosive plays for us, he can do some good stuff, run after the catch, go. It's really about getting him caught up to speed as fast as possible and making sure he'll be ready to go and he'll be able to play fast."
As for Mims, he had a very productive final three seasons at Baylor (182-2,901-15.9-28) that led to the Jets selecting him 59th overall in Round 2 of the April draft. As Darnold described Wednesday after working with the 6-3, 207-pound rookie once again:
"Yeah, he's explosive, quick in and out of his breaks, I think that's the biggest thing," Darnold said. "And then he's a big target. Whenever you've got a big guy like that who can run, who can get in and out of his cuts, that's what you want. So that's Denzel."
The concern outside the team is that the two need more time to get synced up with their QB. Do they? Perriman may be biased, but he said no.
"Honestly, I don't," he said. "I mean, Sam's going to put the ball where we need it. Just from what I can tell, that's what he specializes in. I don't think that's going to be a problem at all."
Darnold and Gase have had similar upbeat takes on the Jets offense this week. And another voice with a vested interest in the passing game, because of how it affects the running game, joined in the chorus.
"Me personally, I'm confident the guys on the outside can make plays," Bell said. "We don't have just two receivers. We've got tight ends, we've got running backs. It looks like we've got a team where we can spread the ball around a lot.
"I think Mims and BP understand the offense and know what to do, so when they're out there, they're going to be comfortable, and the guys behind them are going to be comfortable because they got all those reps.
Bell's conclusion: "I think that's good for us."
The Jets and their fans will get an idea of how good in three days in Orchard Park, NY.