Last week Muhammad Wilkerson was asked how good this year's Jets defense can be.
"It could be one of the best in the league," said Wilkerson, "as long as we keep pushing each other. And besides the 11 starters, we've got to have backups coming in and playing like starters."
One backup in Mo's D-line group has been making plays like a starter in the first two weeks of camp and that is free agent rookie DE Julien Obioha.
"I think I'm just getting really lucky," said Obioha (pronounced oh-be-OH-ha), the 6'4", 280-pounder from Texas A&M after making his second big takeaway in a four-practice span on Thursday. "I'm reading my keys, I'm seeing the ball thrown, and it's ending up in my hands. And I have a great coach. He's pointing me in the right direction. I'm listening to everything he's telling me."
Pepper Johnson is a fine DL coach and a big-play maker in his day, but you can't always coach the ball winding up in the same player's hands. Yet that's what's happened recently for Obioha.
In the third practice of camp, in the Atlantic Health Jets Training Center fieldhouse due to the rain, Ryan Fitzpatrick found himself under pressure up the middle, the ball popped in the air, and who should come down with it but No. 65.
Pick or fumble? "Doesn't matter," Obioha said. "The ball was in the air, it was a takeaway, and I got it. ... I think [Georgia rookie LB] Jordan Jenkins tipped that one, so it was SEC all the way."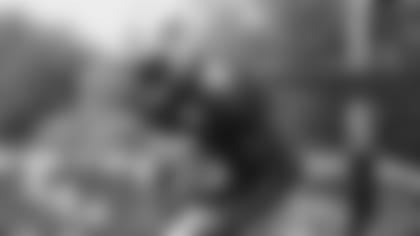 Then Thursday, rookie QB Christian Hackenberg was the QB under the gun looking to hit a screen pass. Instead, he hit Obioha's hands, and "Bo," his nickname at A&M, made the tip, the catch and the short trip to the end zone for a pick-six.
Obioha hadn't really shown a big knack for that kind of big play in college. He played end for three years before moving inside to tackle last year and for his career had two forced fumbles, one recovery, no TDs and no INTs — although he did break up nine passes behind the line, a good number for any D-lineman. It's hard to resist this bit of alliteration: Perhaps Pepper is polishing up his pro pick pilfering propensities.
How has the rest of the summer been going for Obioha in his bid to make the final cut?
"Of course, if I make a lot of plays in the preseason, I'll end up on the roster, hopefully," he said. And he's right.