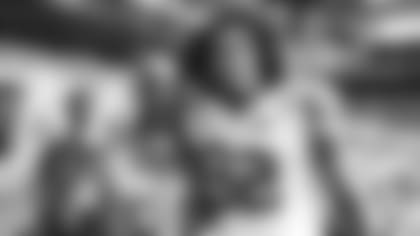 Sunday's game against the Dolphins marked more than just a homecoming of sorts for Jets defensive lineman Leonard Williams. It was also the first time in 10 years Williams' father, Clenon, watched his son play football.
"That was a really big moment. I haven't seen my dad since I was 14 and that's when I first started playing football actually, when I got to high school," Williams said of his father, who was imprisoned at Marion Work Camp in Florida for multiple offenses . "He got to see me play JV high school football and after that, he went to prison. I haven't seen him since.
"It's been 10 years. I'm 24, I'm a full-grown man, so it's funny for him to see me because he still treats me like a little kid."
Williams had a nomadic childhood as he was born in Bakersfield, CA and moved to Sacramento, Michigan and Arizona before he was a teenager. But "The Big Cat" eventually found some permanence in Daytona Beach, FL with his mother and his four siblings. The 6'5", 302-pounder said his mom's strength kept him on the straight and narrow during tough times.
"She was a nurse and worked like all day, every day," he said of Aviva Russek, who did not attend the game Sunday because she had a nursing shift. "I was the middle of five children, so to see her be able to take care of five children on her own, I was like, 'If she can do all of this, I can get up in the morning and go to workouts, go to school.' She was a big motivation for me."
Like almost everyone that played sports, Williams had mentors help him along the way in addition to his family. Scott Wilson, his former coach at Daytona Beach Mainland's HS, kept an eye out for a young Williams after the latter had a case of senioritis once the football season concluded.
"He really got on me one time and started picking me up every morning and made sure he went out of his way to make sure I was at school," Williams said. "It's been guys that like that have always been in my life at the right time, at the right moment, that have guided me and helped me go where I want to be. It's never been by myself."
Now, the 2015 No. 6 overall pick is a motivation to young kids in similar shoes to his younger self. In the 2016 offseason, Williams trained in San Francisco and spoke to youth at a nearby juvenile detention center.  
"I think it's really important for players or even successful people in general to give back," he said. "I have my mom as a role model, but I also had a bunch of leaders, coaches and mentors that have helped me to where I am. We may not think it's something that huge when we talk to a kid at a football camp or a juvenile center, but it's huge for these kids.
"It helps them sometimes if they remember, 'Oh. This guy is successful and went through the same thing I went through, so why couldn't I?' "