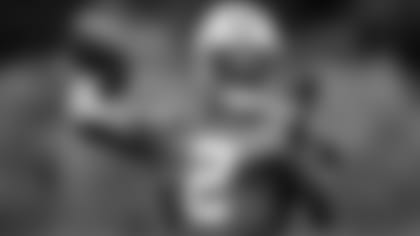 Today was the first Organized Team Activity day for the Jets, and among the scores of players in green and white getting their practice legs under them was Teddy Bridgewater.
"The energy, the atmosphere — guys were flying around today," the quarterback said in the locker room after the OTA. "I was actively involved. And I'm excited to get better each and every day."
He looked pretty sharp, too, in limited 11-on-11 reps, throwing a tight spiral and looking good rolling out.
That's all good news for Jets fans and Bridgewater followers. He came to the Jets as an unrestricted free agent in part because of the devastating left knee injury that he suffered in the late summer of 2016, which kept him out for virtually all of the last two seasons and which he's still rehabbing.
Bridgewater said the knee after today's workout "feels great."
"I've been working with the training staff. We've been making some great progress," he said. "The goal is to get better each day. That's our primary focus right now, that's my focus as an individual goal, and I'll just continue to make those strides."
Bridgewater smiled a lot during his five-minute media session, his first with Jets reporters as a group since he arrived in March, and he continued smiling right on through a question about where he thinks he fits into the QB depth chart that also includes Josh McCown and third pick of the draft Sam Darnold, after Christian Hackenberg was traded this afternoon to the Oakland Raiders for a conditional seventh-round pick.
The short answer: He's not worried about it.
"Control what you can control. My primary focus is to be the best teammate I can be, be the best caliber player that I can be to help the New York Jets win football games," he said. "So we all continue to push each other in that room, motivate each other."
His Minnesota time is over. His 11- 5 record as a sophomore NFL starter in 2015, which propelled the Vikings to their first NFC Central title in six seasons, is in the history books. But he said he doesn't much look to the past.
"I'm just focused on the now," he said. "I'm happy to be here. We have a great team, a group of young guys who are anxious to continue to make noise in this league. That's very exciting to be a part of."