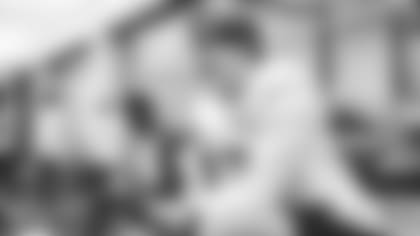 At 6-8 and 251 pounds, the Jets newest TE Zack Kuntz is hard to miss.
"Some people have wild growth spurts, I've always been super tall," Kuntz said. "In eighth grade, I was like 6-5. Seventh grade, I was dunking on kids in middle school ball. It's always been something. In high school, I was 6-6, 6-7. I'm right at that 6-8 bar now. I think I'm done growing, hopefully."
Kuntz has been a multi-sport standout his entire life. In high school, Kuntz was a four-year varsity letterman as a tight end and defensive end while also lettering in basketball and claiming a state championship in track. Kuntz was initially hoping to be recruited to play basketball in college before his football recruitment blew up after his freshman year.
"Yeah, I guess you could say I made that decision earlier, than later," Kuntz said on his choice to follow his football career. "I thought it was always important to be well-rounded. It helps you to just become a better athlete, you don't become one-dimensional too soon. I would say my transition to high school kind of made the decision of two sports that I might go, and at that point I was kind of like football. I was fortunate to be pretty good at both of them, but football in the end is just way more fun to play."
After three years at Penn State, Kuntz transferred to Old Dominion where his collegiate career took off. In Kuntz's redshirt junior year, he accumulated 73 receptions for 692 yards and 5 touchdowns. His senior year was cut short when he sustained a season-ending knee injury with seven games left in the season. However, Kuntz was still able to test at the NFL Combine, where he ranked first among all tight ends with a 40-inch vertical, 10-8 broad jump, 6.87 three-cone, and 23 bench press reps.
"I wasn't sure if I was going to be ready to go by that point, in terms of what I was going to be able to have as output for the Combine," Kuntz said. "To be honest with you, I probably only had a month or so of full training. I was kind of just acclimating to a lot of those things. Getting your muscles and your body back to making those types of movements and making cuts. I think my performance at the Combine definitely helped [getting drafted], in terms of just raw athleticism, and what I'm able to do physically. At the end of the day, I'm a Jet, and I'm very happy for it."
As Kuntz' NFL career begins, he is already excited to learn from the veteran leadership within the Jets tight end room. However, he won't be losing his competitive edge when thinking about the 13 tight ends who were selected before him in the 2023 draft.
"My biggest thing is just being able to meet those guys here and just getting a feel for the room," Kuntz said. "I'm excited for the opportunity to learn from those guys who have been doing it for a while. When you go from college to professional, there's a different pace of play, speed of the game, and more complex offenses. I have the athletic ability and the potential to do really good things. So, I'm going to combine my abilities with the knowledge in the room, and I think we're going to have a great recipe there.
"Obviously. there's a chip on my shoulder. I sat there with my family, and I counted every single guy. I've been given a great opportunity, and at this point, it's in my hands what I do with that and I'm certainly going to maximize it."
See the Jets veterans, including Aaron Rodgers, Sauce Gardner, C.J. Mosley and Garrett Wilson, and the 2023 rookies on the field together for the first time during voluntary workouts.