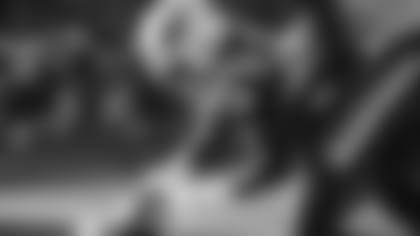 It was perhaps difficult from outside the Jets locker room to see progress being made by the offense in Sunday's 37-17 loss to the Vikings at MetLife Stadium. It was also hard inside the room to see that progress as well, said rookie tight end Chris Herndon.
Asked about the one touchdown reception he had, in the first quarter, and the one taken away by a booth replay review in the fourth, Herndon replied:
"They kind of played out just how we practiced them. But it's hard to really think about those after a loss because that just means our performance wasn't good enough. So it's time to move on and get ready for next week."
Yet Herndon, despite his down demeanor after the defeat, has reason to feel upbeat about the tight ends' role in the Jets' offense and specifically his increased prominence. For the second game in a row, he caught a TD pass from fellow rookie Sam Darnold. And had his second TD gone in the books, he would've become the first Jets rookie TE to catch two TD passes in a game.
However, the replay review overturned the call on the field, saying his foot was out of bounds when he reached the ball inside the pylon. So instead of an 18-yard score, Herndon's 17-yard reception set up Darnold's 1-foot TD sneak. And that was one of his career-high four receptions on the day, for 42 yards.
"Every single game, I feel like Chris is getting better," Darnold said. "It's awesome to see him compete every day in practice, and then when he comes out here in the game, it looks just like practice, which is awesome."
Herndon's role could continue to evolve in the offense since the WR group was without Quincy Enunwa (ankle) today and the team released Terrelle Pryor (groin) Saturday because, head coach Todd Bowles said, "We needed an extra receiver."
"It's a little adversity," Herndon said of the wideout injuries, "but one thing about it is the season keeps going. You can't complain and make a bunch of excuses. You've just got to work with what you have and just go out and do the best you can. ... We're going to take care of our bodies and just use this week to get better and get prepared for Chicago."